Your Best Holiday Shopping Experience
Saturday, November 26th
Celebrate Small Business Saturday and Indies First
The Saturday after Thanksgiving-is a day to rally people to shop at local businesses. Join us at Main Point Books on Saturday, November 26th, when local authors join MPB staff to recommend books to our customers-and perhaps sign a few copies of their own! We will be giving books and goodies away all day long and wrapping gifts for free as always.
10 am - 11 am: All cookbooks are on sale 50% off with the purchase of another book. Pick up a copy of the V Street or Zahav cookbooks.
11:30 am -12:30 pm: Meet Carol Sulcoski, Carol is a local author and knitter. Her books include,Knitting Ephemera: A Compendium of Articles, Useful and Otherwise for the Edification and Amusement of the Handknitter; Self Striping Yarn Studio and
Lace Yarn Studio. This is the perfect gift for someone on your list (a gift that keeps on giving) or maybe you are the knitter -- in which case come with your questions.
1:00 pm - 2 pm: Katie Crawford, author of Mine
Described by Kirkus in a starred review as, "An intense, perceptive tale of two sisters grappling with a turbulent family history," Mine is the fictional story of Maggie and Janie, who begin their life in the coal region of Pennsylvania, but as the sisters' lives diverge in unexpected ways, we learn how they remain both entwined and distant, their shared past resurfacing regardless of their distance from home.
2:00 - 3 pm: Meet Beth Kephart, award-winning writer of 21 books, including This is the Story of You and Handling the Truth. Beth is a partner in Juncture Workshops, and adjunct teacher of memoir at the University of Pennsylvania. She will be at Main Point Books to talk memoir and young adult literature. Beth is the perfect person to suggest a holiday book, or two or three, for those on your holiday list.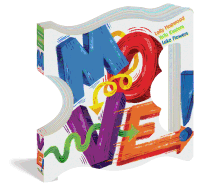 4- 5 pm : Move with Lolly and YoYo - Normally books are about quieting down your child but Move is a book that will make them get up and go. We are not kidding; Lolly & YoYo put on an interactive show that will have everyone moving and after running around the store your family will be ready for dinner in Wayne.
5-6 pm: Amy Korman, Killer Punch
Yes, we all need an entertaining detective novel to get us through the holidays and this series by local author, Amy Korman is a lot of fun with a local twist as the "Killer WASPS" solve the crime. Amy will have mystery suggestions and we will have a little pre-dinner punch.
More Great Reasons to Shop Small Business Saturday:
Free book with purchase
Come in and get your code for a free audio book
Authors books will be discounted 20% all day long
Event date:
Saturday, November 26, 2016 - 9:00am
Books:

$12.95
ISBN: 9780761187332
Availability: Usually Ships in 1-5 Days
Published: Workman Publishing Company - May 3rd, 2016
---
$11.99
ISBN: 9780062431318
Availability: Special Order
Published: Witness Impulse - September 20th, 2016
---

$19.95
ISBN: 9781454709367
Availability: Usually Ships in 1-5 Days
Published: Lark Books (NC) - August 16th, 2016
---