The Empty Nest Discover Your New Life Focus (Paperback)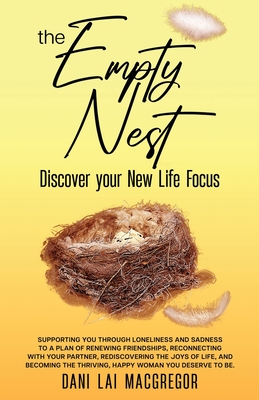 $14.99

Usually Ships in 1-5 Days
Description
---
Discover how to celebrate your life as an empty nester... without guilt or sorrow.
Does your quiet home give you heartaches and tears?
Does your increased free time burden you with worry and loneliness?
Do you not know what to do with your life now that the kids are gone?
Becoming an empty nester is a sudden and painful change.
It is such a difficult time that 38.6% of empty nesters suffer from clinical depression and 1 in 4 marriages end in divorce.
Even though both parents may be affected, all the studies show that you, the mother, will suffer the most.
After all, it is you who have been dedicating all your time, effort, and thoughts to your children.
It is you who have been in constant worry for their well-being and monitoring every single detail of their lives.
It is you who made all those personal sacrifices in your career, friends, and hobbies to be fully there for them.
It's not that your partner did not contribute, but let's face it, it has always been you who was really rearing them.
Then... They are all gone in a flash.
This triggered feelings of loneliness, sadness, and disorientation.
And, on top of that, your marriage may have started to suffer.
But know that it doesn't have to be this way...
With the Stretch Your Old Wings Plan, you can overcome this challenging phase of your life and soon come see yourself as the thriving and happy woman you can be.
In this guide, here is just a fraction of what you will discover:
● Your way into purpose and happiness with the tailor-made Stretch Your Old Wings Plan approach
● All you need to know about Empty Nest Syndrome, its symptoms, and risk factors
● How to reshape your connection with your adult children and form a strong, positive-based bond relationship
● How empty nesting fits in your family cycle... and how you will progress through it to the other side
● How to remake yourself as a person and a woman - overcome difficult feelings and make an exciting future for yourself
● How to spark your love language and heat things up with your significant other
● Advice and activities to help you along the way to living your life to the fullest
And much more.
With this guide, you can turn the change that troubled you so much during your child's senior year or wedding plans, into an awesome new chapter in the life of your family.
You will be finally able to overcome this separation with better clarity, emotional stability, and practical action to start feeling loved for who you are, and not only for being in your mom role.
If you want to be the happy woman you deserve to be and your children want you to be, then scroll up and click the "Add to Cart" button right now.