Silent Retail Killer: 10 Survival Strategies for Bricks Grocers to Compete with Clicks Grocers (Paperback)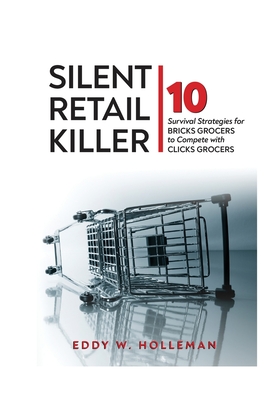 $19.00

Usually Ships in 1-5 Days
Description
---
Silent Retail Killer: 10 Survival Strategies for Bricks Grocers to Compete with Clicks Grocers
By: Eddy W. Holleman
CONFRONT THE CRISIS THREATENING BRICKS RETAILERS
Traditional bricks grocers are falling victim to clicks. They're in doom-or-denial mode, ignoring the threat or not adapting rapidly enough. And in their wake, clicks are taking over as the fastest-growing faction of grocery sales.
But at the intersection of the physical and virtual worlds, there is hope. Eddy W. Holleman combines the strengths of both clicks and bricks to forge a 10-strategy survival plan for bricks grocers who are looking to stay savvy and compete in today's changing retail atmosphere.
Savvy Retailers Will:
- Learn the new service mantra
- Drive traffic and build loyalty
- Reverse old business wisdom
- Differentiate a brand
- Fulfill orders faster
- Move customers' emotions
- Compete with Amazon
TAKE COMPETITIVE STEPS NOW TO STAY ALIVE.
About the Author
Eddy W. Holleman draws from three decades of experience as a values-driven General Manager of a retail store and an adjunct professor in the business and accounting division. He lives with his wife in Houston, Texas, and has two adult children. Contact the author at eddy.holleman1@gmail.com.