Death for Hire (Paperback)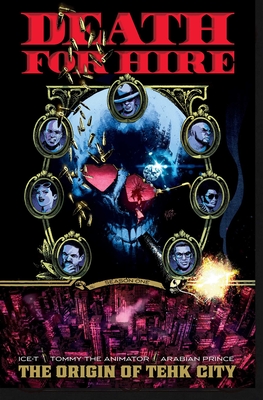 Description
---
Z2 Comics is proud to announce DEATH FOR HIRE: The Origin of Tehk City, a new hard-crime graphic novel prelude to a massive IP universe that will span animation, music, toys, NFTs, and beyond. Created by iconic musician and actor Ice-T, founding NWA member Arabian Prince, and Award-Winning artist Tommy The Animator.

The blueprint of living in Tehk City is simple: do as you're told, always watch your back, and never, ever, trust anyone. The crooked Mayor Chuck Davis (Ice T), his deadly female assassin Rhonda Knuckles (Coco), and right-hand man Maniac Max (Treach) know this all too well. They must navigate through the savage law of the street.

With his hands in everything from money laundering to hired hits, Davis tries to stay one step ahead of the competition in The Round Table Gang, Benny Tang (Ben Baller), Azul Michoacan (Emilio Rivera), and Vinny "Pipes" Roselli (Jeffrey Peterson)—who have controlled the black market undercurrent of Tehk City for years. But information comes at a price, especially when purchased by Pretty Black (Snoop Dogg), whose black market network feeds him intelligence from the furthest reaches of Tehk City. Davis and his crew will soon learn that grabbing power from the top dog can take you sky high or drag you to the grave.




About the Author
---
Ice-T is the original embodiment of LA Hip-Hop and a cultural icon. Through his music, his books (The Ice Opinion, Ice: A Memoir of Gangster Life and Redemption-from South Central to Hollywood), and his lecture tours at universities (Harvard, Princeton, and Stanford) etc., Ice-T has become an influential spokesman for America's youth, regardless of color.

Born in NJ, and an only child, he lost both parents before the age of 11. He was then shipped to LA to live with family. Ice became involved with LA gangs before spending four years in the army as a Ranger. His first break came when he appeared in the film Breakin'—from there he went on to become rap music's original gangster, selling millions of records and winning a Grammy.
He subsequently formed the metal band Body Count, whose controversial single "Cop Killer" brought the band worldwide attention. As his music was grabbing headlines, Ice's film career soared with roles in New Jack City, Ricochet, and Trespass. Ice then joined the cast of Law & Order: SVU as Detective Odafin Tutuola. Law & Order: SVU is in its 24th season and is the longest running TV drama in TV history. Ice has acted in every season of this record-breaking run.

In Jan 2012, Ice's directorial debut, "Something from Nothing: The Art of Rap", premiered at the Sundance Film Festival. In addition to Law & Order: SVU, Ice produced and hosted the tv show "In Ice Cold Murder" for Oxygen.

Osvaldo Pestana Montpeller (Montos) was born in Havana City, Cuba, on September 13, 1985. His working life began as a graphic designer at Ediciones Luminaria, a local book publisher. Ilustrating there the following titles: - Rainbow of Foam - My first stories - Crystal Treasures - At the edge of the path - Colourful carousel - Green Treasure - The dream and the light - Winged jewelry - Coplas de Doña Luna - Paquelé (cover only). With other cuban book publishers: -Tesoro verde ("Editorial Gente Nueva" 2010, Cuba). - Stories of Rocío Frenteabierta. ("Ediciones Idea", 2010. Spain). - Tiempo Cero. Anthology of science fiction stories. ("Editora Abril", 2011, Cuba). -Romances del pirata ("Editorial Gente Nueva" 2012, Cuba). -Condonauts. ("Editora Abril" 2011, Cuba). -The Devils of Yaguaramas. ("Editora Abril" 2014, Cuba). -The enigmas of the Ivory Rose. ("Editorial Gente Nueva" 2014, Cuba). -The Invisible Circus ("Editorial Oriente" 2014, Cuba). -Pedro Policarpo ("Editorial Mecenas" 2015, Cuba). -Pedro Sin Alas ("Editorial Luminaria" 2015, Cuba). -Caos ("Editorial Gente Nueva" 2015, Cuba). -Lazarito y el árbol roto ("Editorial Gente Nueva" 2016, Cuba). -Unite the dots and you will see ("Editorial Oriente" 2019, Cuba) -Small inventory of monsters ( Editorial Ediciones La Luz 2019, Cuba ) -MOUNTAINS. The last campaign ("Editorial Gente Nueva" 2016, Cuba). He has also done illustrations for the fanzine Supervivo. As a comic artist/cartoonist he did the art for these titles: Adventures on the Motherboard (series published in Zunzún Magazine, "Editora Abril", Cuba). Auroria. The Great Alliance ("Reina del Mar Editores", Cuba). La tumba de Rodgarth ("Rodgarth's Tomb" Anthology, "El libro. "Reina del Mar Editores", Cuba. The comic book maker the seasons. "Comics 656", Mexico). All hail the emperor of flesh (Anthology Bomb scares, "Time Bomb Comics", England). The happy story of Mr. U (Christian Comics Competition Anthology, 2008, "Comix35", USA). Ant's House (New Visions Anthology, "New creation", USA) Intrepid 1, Intrepid 2, Intrepid 3, Intrepid 4, Intrepid 5, Intrepid 6 ("GiStudios", USA). Donarr the Unyielding ("Ape Entertainment", USA). Poison Elves 1, 2, 3, 4, 5, 6, 7 ("Ape Entertainment", USA) Gears and Bones 1, 2, 3, 4, 5, 6 ("Guardian Knight Comics", USA). Blowtorch ("Second Sight Publishing", USA) Twilight Imperium graphic novel ("Asmodee entertainment", USA). Entropy ("Heavy Metal", USA). Blondie. Against old odds. ("Z2", USA). Awards in contests: -2004: 2nd Place, Comic Strip, Chispa Joven Contest, organized by "Palante" newspaper, Havana, Cuba. -2010: 1st Place Serious Comic, 1st Comic Salon Potaje Gráfico, summoned by "5 de septiembre" newspaper, Cienfuegos, Cuba. -2010: Unique Prize, Cayman comic book contest, summoned by the newspaper "El caimán barbudo", "Editora Abril". Havana, Cuba. -2010: 3rd Place General Humor, International Graphic Humor Salon "Melaíto", Santa Clara, Cuba. -2011: Prize in 1st. category (Professional) in the Cuadro a Cuadro contest, ("Editora Abril" & "Estudios de Animación del ICAIC"). -2012: Annual Graphic Journalism Award Honorio Muñoz 2011, UPEC Sancti Spíritus, Cuba. -2012: Mention in the Graficorte contest. (sponsored by Un Proyecto en Movimiento and La letra corta.) -2012: First Prize (shared) for Artistic Creation Ojalá, sponsored by the Office of Silvio Rodríguez and Abdala Studies, Havana. -2018: La Rosa Blanca Prize for Lazarito's illustrations and the broken tree. ("Editorial Gente Nueva", Havana, Cuba). -2018: AHS Collateral Award in 1st Fayad Jamís Biennial, (UNEAC, Sancti Spíritus, Cuba). -Including one launched by "Editorial Gente Nueva" to illustrate the second volume of El Señor de los anillos, by J. R. R. Tolkien, in which one of the three winners was chosen. Scholarships obtained: -The kingdom of this world. (Awarded by the "Hermanos Saínz Association", Havana, Cuba. 2019) -Praxis Academy. (Awarded by Biola University. Los Angeles, California, USA. 2019)

OG Arabian Prince is a songwriter, rapper, producer, DJ, technologist, pro gamer, animator, futurist, and blockchain pioneer. A founding member of the Rock & Roll Hall of Fame group N.W.A., Arabian Prince is the producer of the GRAMMY-nominated #1 hit song, "Supersonic." He's also the co-founder and CEO of MDDAO, a Medical Metaverse company, as well as the founder of iNov8 Next Open Labs as well as GGGOAT PC, a lifestyle brand. His passion for technology led him to create a 3D animation and special effects studio in the '90s, working with companies including Saban Entertainment and Fox, including 100+ video game, film and TV titles for Fox interactive and Vivendi Universal. As a consultant, Arabian Prince has advised companies on bridging the gap between technology and the youth, while bringing new product innovations to market. He is currently working with his tech partners to bring Open Labs to communities across the country in support of youth, women, diversity, veterans, and anyone else who wants to explore the future of technology.

Gary Phillips writes comics and prose, and toils in television as a story editor on Snowfall, about crack and the CIA in 1980s South Central where he grew up. He is also a critically acclaimed author of mysteries and graphic novels.

Tommy The Animator is an award-winning painter, sculptor, and 2D/3D animator. His animated works include "The Ski Mask Way" (Blood Lust) and "Critical Beatdown" off the GRAMMY-award-winning Body Count album "Carnivore." Tommy has exhibited his abstract style of artwork across the world with his most recent group exhibition being "Deep Blue," curated by Katherine Bradford and held at the Hall Foundation Museum. Tommy The Animator has also invaded the NFT space with his successful collaboration with rap legend Ice-T, with their "Syndicate" NFTS and a solo drop of NFTS called the "Ballin Budahs." The future of Tommy The Animator looks bright. You could only imagine what this great artistic mind will create next.