Just Us Girls: A Shared Journal for Moms and Daughters (Hardcover)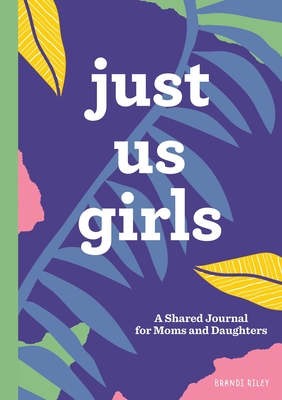 Description
---
Mothers and daughters: write together, share together, grow together.
It only takes a few words for you and your daughter to connect in a meaningful way.
Just Us Girls
is a mom journal meant to be shared with your daughter, helping the two of you build a stronger bond through better communication and deeper understanding.
Go far with a year's worth of journaling prompts that will help each of you relate your thoughts and feelings in a safe, secure space—just for the two of you. This mom journal will form the foundation for a wonderful relationship that will last a lifetime.
This mom journal includes:
A year of writing together—Capture a whole year of your lives, including space to share where you are at the start the year, as well as reflect on where you end it.
Conversation starters—Encourage communication with exercises that have you responding directly to each other—and there's also plenty of free journaling space in this mom journal.
Fun, deep, and everything in-between—From sharing hopes and dreams to discussing your day, this mom journal is full of prompts perfect for adults, teens, and preteens alike.
Create a deeper and more fulfilling mother-daughter bond that you'll always cherish with
Just Us Girls
.
About the Author
---
BRANDI JETER RILEY is an award-winning community builder and parenting writer. She is the creator of the blog Mama Knows It All and has worked as a brand ambassador for several high-profile companies. Brandi is also the author of Just Us Girls: A Shared Journal for Moms and Daughters.

Praise For…
---
"My relationship with my daughter is a top priority. Every new level my daughter experiences allows me to grow as a mother. This mother-daughter journal Brandi has created allows us to connect in a more intimate way. It gives us a full year to learn new things about each other and see each other in a new perspective."—Bernetta Knighten, founder of BernettaStyle.com and author of My Dream Year Manifestation Journal

"Halfway through reading Just Us Girls, I sent Brandi a message saying "I'm in tears reading through this!" This journal has the ability to strengthen and shift the dynamics of so many mother-daughter relationships. The simple prompts are thought-provoking and provide ways to communicate with our daughters on a regular basis. I plan on using this journal with my daughter and am excited about learning more about her, encouraging her creativity and sharing why our relationship is so special."—Michelle D. Garrett, Founder of Divas With A Purpose

"I wish I would have had something like this when I was battling with my mom as a teen girl. I feel like it would have made it so much easier to talk to her. I love that it makes space for transparency in an authentic, non-judgmental way. It also levels the field for girls to recognize that their moms are girls just like they are. I definitely recommend this to the moms in my tribe."—Muffy Mendoza executive director, Brown Mamas, LLC