Would You Rather?: A Book of Gross and Silly Questions for Kids (Paperback)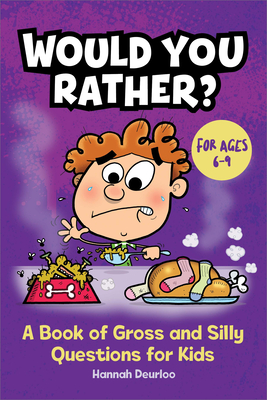 Description
---
Discover how much fun asking questions can be with this "would you rather" book for kids 6 to 9!
Would you rather be completely covered in scaly alligator skin
OR
fuzzy bear fur? Would you rather take a bath in a tub full of tadpoles
OR
shower with an octopus? This hilarious book of questions will have you debating silly scenarios and laughing as you decide which choice is better—or worse!
160 clever questions—Put your thinking cap on and see if you can come up with the most creative answer to questions about stinky foods, creepy crawlies, and more!
Try it for yourself—Find space at the back of the book to write your own "would you rather" questions to ask your friends and family.
Have fun anywhere—Bring this book with you to the dinner table, to the grocery store, in the car, and more so there's always something exciting to do.
Get ready to put your imagination to the test with
Would You Rather Questions for Kids
.
About the Author
---
HANNAH DEURLOO is a writer who loves adventure and would rather dig up worms than do the dishes. In fact, you can often find her in nature when she's not working. To learn more, visit her blog at QuestType.com.
Praise For…
---
"I just finished reading Hannah's entertaining Would You Rather book and I really enjoyed it! My mom and I played, and had a blast. We were creeped out during the creepy questions. Laughed at the hilarious ones, and we both had a great time. Hannah's Would You Rather story is going to make so many kids laugh, get grossed out, and think critically! Perfect for its intended age group!" —E-Train, Podcaster & Kid Lit Reviewer at ETrainTalks.com