Parenting Teens in Today's Challenging World: Proven Methods for Improving Teenagers Behaviour with Positive Parenting and Family Communication (Paperback)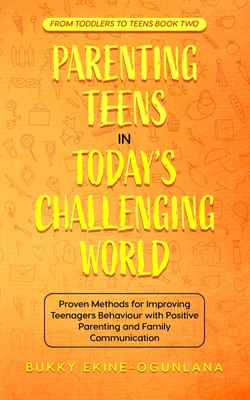 $19.99

Usually Ships in 1-5 Days
Description
---
Struggling with a teenager's mood swings? Find out how to have a positive, meaningful, and effective relationship.
Does your adolescent feel like an alien? Can't handle the one-word answers anymore? Worried they might be in trouble or depressed but don't know how to approach them? Teacher and specialist in young adult development Bukky Ekine-Ogunlana, M.Ed. has spent decades helping youths and their parents learn to communicate. Now she's here to share powerful techniques to aid you in reconnecting with a child hitting the most awkward time of their life and set up the future they deserve.
Parenting Teens in Today's Challenging World: Raising Teenagers Without Power Struggles is a practical guide for parents, guardians, and anyone involved in supporting adolescents during this confusing period. With detailed examples, concrete plans, and six clear categories to focus on, Ekine-Ogunlana's expertise will help you address any issue with confidence. And by having new, proven strategies to tackle the complex metamorphosis from child to young adult, you'll soon be relating in constructive ways and with a deep emotional connection.
In Parenting Teens in Today's Challenging World, you'll discover:
Insights into handling the overwhelming mental and physical changes of puberty and helping them cope
Ways to avoid conflict, so every interaction can be harmonious
How to recognize hidden signs of depression and anxiety and reclaim high self-esteem
Techniques for disciplining your children while still keeping the peace
Methods for dealing with anger, helpful anecdotes and case studies, and much, much more
Parenting Teens in Today's Challenging World is a lifeline for anyone trying to deal with youthful drama. If you like expert advice, straight-to-the-point information, and calming inspiration, then you'll love Bukky Ekine-Ogunlana's antidote to angst.
Buy Parenting Teens in Today's Challenging World to turn rebels into role models without delay