Bible Time Line (Genesis to Revelation at a Glance) (Loose Leaf)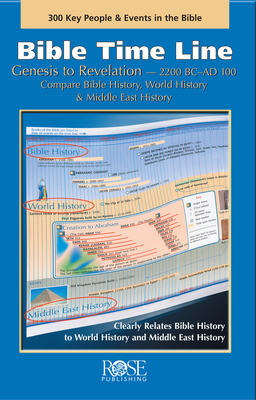 $4.99

Usually Ships in 1-5 Days
Description
---
Easily see over 300 key events from Genesis through Revelation at a glance--and conveniently compare Bible and world history side-by-side with this slimline pamphlet (fits inside most Bible covers)
Covering everyone from Adam and Abraham to Cleopatra and Aristotle, this fold-out, laminated time line provides key background information in a way few Bible resources can--showing over 2,000 years of history in a single glance. Quickly see the sequence of every major event in the Bible alongside fascinating facts from world history.
Since the Bible was written over thousands of years (and its books are not in chronological order), this time line is a convenient way to quickly see the "big picture" and context of the Bible
Key Features:
Quick and Simple. This fold-out time line covers over 300 key people and events from world history and from the Bible, including all of the ruling dates of kings, prophets, battles, and events.
Easy-to-Understand. Shows Bible events in the order they happened alongside fascinating facts from world history. Helps you get the "big picture" of the Bible.
Easy-to-Use. Includes larger print and features full-color pictures. It's slimline, so it easily fits in most Bibles, making it easy to quickly reference
Packed with fascinating facts that will add depth to any Bible study, such as: The first Olympic games in Greece were at the time of Jonah in the Old Testament.
Fascinating Facts: Compare Bible History and World HistoryOld Testament Events
The first recorded Olympic game in Greece was held during the time of Jonah.
Daniel lived in Babylon at the same time Confucius was in China and Buddha was in India.
Moses was leading the Exodus while the Sheng Dynasty was flourishing in China.
The Greek historian Homer lived during the time of Isaiah, Amos, and Micah.
New Testament Events
Mt. Vesuvius erupted and buried the city of Pompeii just 50 years after Jesus' death and resurrection. The apostle John probably would have known about it.
Emperor Caligula who ruled 7 years after Jesus' resurrection was a madman. He made his horse a senator.
When Paul was taken under guard to Rome, he didn't see the Colosseum. It was built 4 years after his death.
Emperor Nero, who had Peter and Paul executed, also had his wife and mother killed.
This handy pamphlet is filled with full-color illustrations and photographs. There is no better time line of Bible history for Bible studies, church groups, Sunday schools, and small groups.
12 panels, fits inside most Bibles, 8.5 x 5.5 inches, unfolds to 33 inches long.
See 300 Key People and Events in Bible and World History at a Glance
Gain a new perspective on the place and time of biblical history when you see the comparisons.
Key Old Testament People and Events
Adam and Eve, Abraham, Isaac, Jacob, and Joseph
King Saul, King David, King Solomon, Temple, Major and Minor Prophets, including Elijah
Moses and the Exodus (Parting of the Red Sea, 10 Commandments, and Tabernacle)
Rebuilding Jerusalem and Temple (and more )
Key New Testament People and Events
Jesus (Birth, Baptism, Ministry, Death, Resurrection, Ascension)
The Apostle Paul conversion and all his missionary journeys
Peter and Paul martyred in Rome
Apostle John exiled to Patmos and book of Revelation written
World Events
The Trojan war; the building of the Egyptian pyramids
Founding of Rome, the birth of Buddha
Alexander the Great's victories
Cleopatra's rule (AND MORE )