El eternauta 1969 / The Eternaut (Hardcover)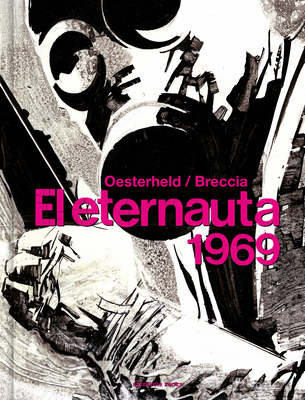 Description
---
El remake psicodélico y en clave política de El Eternauta, la «obra maldita» del cómic argentino.
 
Ante una invasión alienígena, las grandes potencias mundiales han acordado concederles todo el territorio de América Latina a cambio de firmar la paz. Un insólito equipo formado por ciudadanos de a pie pondrá en marcha la resistencia en las calles de Buenos Aires. El Eternauta 1969 es un remake del clásico del cómic mundial, El Eternauta (1950). Esta versión fue tan revolucionaria que las autoridades argentinas y un buen número de lectores de la revista en que se publicaba (Gente) pidieron repetidamente su cancelación. En definitiva, una obra avanzada a su tiempo.

ENGLISH DESCRIPTION

2016 Eisner Award Winner for Best Archival Collection/Project―Strips! Seminal Argentinian science fiction graphic novel, whose main character is still viewed as a symbol of resistance in Latin America.
 
This originally appeared as weekly installments from 1957-59. Juan Salvo, the inimitable protagonist, along with his friend Professor Favalli and the tenacious metal-worker, Franco, face what appears to be a nuclear accident, but quickly turns out to be something much bigger than they had imagined. Cold War tensions, aliens of all sizes, space―and time travel―this one has it all. Black & white illustrations throughout.
About the Author
---
HÉCTOR GERMÁN OESTERHELD (1919-1977) y ALBERTO BRECCIA (1919-1993) formaron una de las colaboraciones entre guionista y dibujante más destacadas de la historia del cómic, con trabajos como Sherlock Time, Mort Cinder, Vida del Che y El Eternauta 1969.