Cool Tokyo Guide: Adventures in the City of Kawaii Fashion, Train Sushi and Godzilla (Paperback)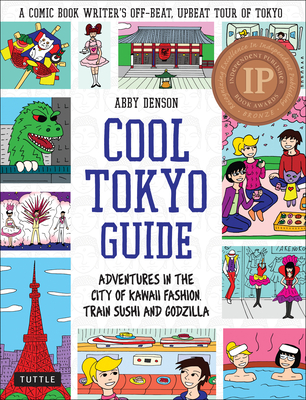 $14.99

Usually Ships in 1-5 Days
Description
---
**Independent Publisher Book Award (IPPY) Winner**
Discover the city of temples, video games, manga, and cosplay with this graphic Tokyo travel guide Tokyo is an astonishing world unto itself--a city for lovers of Japanese culture, fashion and great food that mixes the best of old and new. In
Cool Tokyo Guide
, Abby Denson, author of the popular
Cool Japan Guide
, turns her focus to Tokyo's exciting streets and a little bit beyond.
Abby, her husband Matt, friend Yuuko and sidekick Kitty Sweet Tooth will introduce you to:
A restaurant where clowns drive robots and mermaids ride on sharks
Fantastic shops for lovers of everything from vintage manga to dollar-store treasures
Great places to take kids--or be a kid, of any age--like the Ghibli Museum and Palette Town
Famous sites both old and new, from Sensoji Temple to Tokyo Tower
Major comic conventions in the anime, cosplay and manga capital of the world
Must-visit spots like Ueno Park and even a few spots outside the city
This practical and fun comic book guide also helps you navigate everyday life in Tokyo, such as train etiquette, trash disposal, tricky toilets, department store fitting rooms and the surgical mask phenomenon. There is also a special family travel section for those traveling with children, as well as information on ways to prepare ahead of time to make the most of your stay in Tokyo. Whether you're planning a trip to Japan or just taking an armchair sojourn, this book will prepare you to have a great time.
About the Author
---
Abby Denson, an International Manga Award-winner, has scripted for The Amazing Spider-Man Family, The Powerpuff Girls and many other comics. Her graphic novel Dolltopia won a Moonbeam Children's Book Award. In addition, she is the author of the acclaimed coming-out story Tough Love: High School Confidential and Cool Japan Guide. Her blog City Sweet Tooth is an online tour of New York's best sweets purveyors.