Mended Bones: Origin Story (Paperback)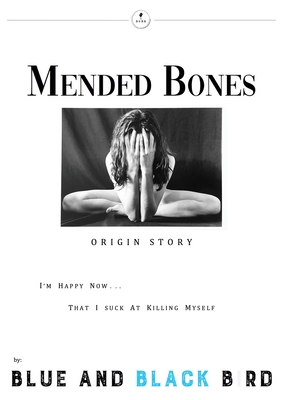 $24.99

Usually Ships in 1-5 Days
Description
---
AUTHOR: Blue and Black Bird... AKA Michelle Liila Gagnon
Michelle Liila is a writer, singer-songwriter, screenwriter, and artist born in the capital of Canada
Having struggled with suicidal thoughts from the age of twelve, and having attempted suicide twice in her late teens and once as an adult, Michelle felt led to write a memoir about her life to help older teens and young adults learn from her mistakes. (Though really, it can help people of any age.)
Written in a mix of memoir and diary style, it is often addressed to the reader and is meant to provide the reader with some solace... and a friend - someone the reader feels can understand them.
Michelle also hopes the book will help people to better understand others in their lives who are going through struggles and perhaps discover new ways to connect with them and help them.
The book is often written in the present, but weaves back through the past. Included is a story Michelle wrote in a Writer's Craft class in high-school about her first suicide attempt, surrounding events, and relationships.
Sections titled 'Fragments of Memories' - that are almost poetic in nature - show the nature of memory and how it often exists in pieces and surfaces without respect of chronology.
Songs mentioned in the book, written by Michelle, can be found on YouTube - @michelleliila, though the songs are rough recordings and Michelle hopes to put out proper recordings in the future.
Pictures mentioned in the book can be found on Pinterest -- @blueandblackbird
One great way to read the book would be in a group or along with one or two other people so that it can be discussed, people can be encouraged to open up to each other, and emotional support can be shared.
Though Michelle would love for the book to be able to be read by younger teens as well, she rated it 16+ due to mature content. But younger teens can be helped through parents and loved ones reading the book.
FROM BACK OF BOOK:
"I'm happy now. . . that I suck at killing myself."
Okay, so Michelle doesn't actually suck at killing herself. All three of her attempts were pretty good. You know, the lethal kind. And yet, she's somehow still here.
Now she's on a mission to write her story, to help people learn from her mistakes. But can she handle dredging up all these horrible memories of past love and suicide attempts? And a darker truth, recently unearthed, looms. . . that may explain why she's always struggled with relationships and being suicidal - off and on - from the age of 12.
Not to mention William - the latest guy she's in love with and can't get over. And does he feel the same? He always said he felt crazy, the way he kept coming back. And strange things have been happening with her computer lately. Is William actually spying on Michelle as she seems to think he is? Is he still in love with her? Is he going to come back again?
Michelle's life seems to be at stake as she struggles with suicidal thoughts and wonders what's going on, but there is always some hope, some strength that pulls her through. Something that won't let her give up - some greater purpose.
MENDED BONES (AND THE GREATER BLUE AND BLACK BIRD SERIES - A COUPLE MORE BOOKS TO COME ) IS A STORY OF SURVIVAL, PERSEVERANCE AND RELENTLESS HOPE.
Rated 16+ for mature content.