Moms Moving On: Real-Life Advice on Conquering Divorce, Co-Parenting Through Conflict, and Becoming Your Best Self (Hardcover)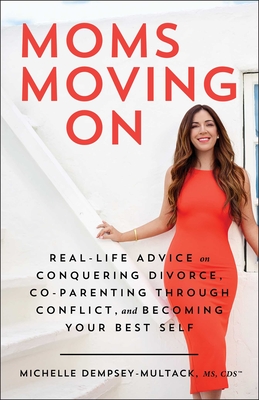 $26.99
Title is Backordered
Description
---
Trust your gut, take care of yourself, and find new life on the other side with this "straightforward" (Ilene S. Cohen, PhD, award-winning author of When It's Never About You), empowering guide to divorce for moms.

We hear it all the time on the news. The divorce rates are rising. More children are being raised in split homes.

But you didn't think it would happen to you.

Luckily, you're not alone. Popular divorce coach Michelle Dempsey-Multack not only survived her own divorce but figured out how to move on with her life, just like you will, too. Now happily remarried with a blended family, she's living proof that no matter which "firsts" you might be experiencing as you end your marriage, and no matter how long you stayed with someone who didn't meet your needs, your best days are ahead.

Mom's Moving On is your "go-to guide" (Dr. Elizabeth Cohen, psychologist and author of Light on the Other Side of Divorce), filled with practical, actionable, and empowering advice from someone who has been through it and has come out the other side. Through Michelle's guidance, you'll learn how to navigate your divorce with confidence, adjust to life as a single mother, and shift your perspective to find your way back to your best self. From coparenting to dating as a single mother, you'll learn how to truly move on and create the life you deserve.
About the Author
---
Michelle Dempsey-Multack, MS, CDS, is a writer, mom, coach, certified divorce specialist (TM) (CDS), speaker, and genuine girl power enthusiast. She graduated from Hofstra University with a degree in journalism and communication and then earned a double master's degree in education from Adelphi University. She hosts the weekly podcast Moms Moving On and writes regularly for Parents, Scary Mommy, and others. A former New Yorker, she now lives in Miami with her husband, daughter, and stepdaughter.
Praise For…
---
"Moms Moving On is straightforward and to the point. It's a must-read for anyone going through a divorce, contemplating a divorce, or having been through a divorce. As a marriage and family therapist, I recommend this book to anyone dealing with the emotional challenges of co-parenting, and dealing with the unique challenges faced while getting a divorce. —Ilene S. Cohen, Ph.D. and Award-Winning Author

"If you're going through a divorce and have young children get your hands on this book! I know from my personal and professional experience that it is essential to have the right guide during this traumatic time of divorce. Michelle Dempsey-Multack provides a honest, funny and deeply real look at the struggles and triumphs of going through a divorce. She covers all the sticky areas no one else wants to talk about. She highlights helpful strategies to manage the difficult situation as well as who to reach out to when you need help. You need a go-to guide for this difficult time and I highly recommend picking up this book. Moms Moving On is a gift to all moms who are making the brave choice to move on past their marriages." —Dr. Elizabeth Cohen, psychologist known as "the Divorce Doctor" and author of Light on the Other Side of Divorce

"This book is what every mother who is either contemplating divorce, presently going through divorce, or living through a divorce needs to read in order to feel more empowered and secure as a parent and as a woman, particularly during a time that tends to challenge one's confidence and self-assurance. Michelle's authenticity and relatability feels trustworthy, and will leave mothers feeling like they are speaking to a best friend who just happens to be an expert in the area. This book can be an incredible resource to help mothers transition from "surviving" mode to "thriving" mode!" —Evelyn Mendal, LMHC & Early Childhood Expert