The Star Builders: Nuclear Fusion and the Race to Power the Planet (Hardcover)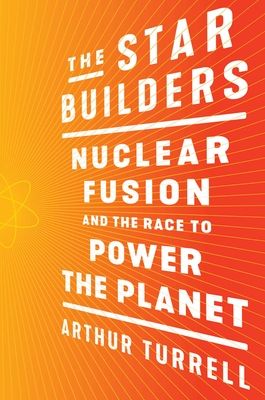 $28.00
Title is Backordered
Description
---
From a young, award-winning scientist, a "thoughtful and illuminating" (Nature) look at one of the most compelling and historic turning points of our time—the race to harness the power of the stars and produce controlled fusion, creating a practically unlimited supply of clean energy.

The most important energy-making process in the universe takes place inside stars. The ability to duplicate that process in a lab, once thought impossible, may now be closer than we think. Today, teams of scientists around the world are being assembled by the boldest entrepreneurs, big business, and governments to solve what is the most difficult technological challenge humanity has ever faced: building the equivalent of a star on earth. If their plans to capture star power are successful, they will unlock thousands, potentially millions, of years of clean, carbon-free energy.

Not only would controlled nuclear fusion help solve the climate crisis, it could also make other highly desired technological ambitions possible—like journeying to the stars. Given the rising alarm over deterioration of the environment, and the strides being made in laser and magnetic field technology, powerful momentum is gathering behind fusion and the possibilities it offers.

In The Star Builders, award-winning young plasma physicist Arthur Turrell "offers an optimistic outlook for the future of fusion power and is adamant about the need to invest in it" (The New York Times). Turrell describes fascinating star machines with ten times as many parts as the NASA Space Shuttle, and structures that extend over 400 acres in an accessible and entertaining account, spotlighting the individuals, firms, and institutions racing for the finish line: science-minded entrepreneurs like Jeff Bezos and Peter Thiel, companies like Goldman Sachs and Google, universities like Oxford and MIT, and virtually every rich nation.

It's an exciting and game-changing international quest that will make all of us winners.
About the Author
---
Arthur Turrell has a PhD in plasma physics from Imperial College London and won the Rutherford Prize for the Public Understanding of Plasma Physics. His research and writing have been featured in The Daily Mail, The Guardian, the International Business Times, Gizmodo, and other publications. He works as a Deputy Director at the Data Science Campus of the Office for National Statistics in the UK. He is the author of The Star Builders.
Praise For…
---
"Every crisis has its possible miracle cure. And the ultimate cure for our energy woes would be nuclear fusion, the same process that makes stars shine….In his new book the plasma physicist and science writer Arthur Turrell [writes of] "star builders," the researchers and engineers who want to create a small star on Earth….While Turrell withholds judgment on which of the different fusion technologies might be most promising, he freely offers an optimistic outlook for the future of fusion power and is adamant about the need to invest in it."
—New York Times

"Thoughtful and illuminating….In the end, The Star Builders is realistic and positive—an interesting snapshot of the current situation and key players."
—Nature

"An expert account of the immense international research effort to develop practical nuclear fusion...Important, high-quality popular science."
—Kirkus Reviews

"In an impressively reported debut, plasma physicist Turrell surveys the global development of nuclear fusion as an energy source… Readers will find plenty of answers—and optimism—about the future of fusion here."
—Publishers Weekly

"A gobsmackingly good read…. Turrell's portraits of the undaunted star-building scientists who are trying to make fusion a reality are not just compelling but, dare I say it, fun. I learned a lot by reading this book. You will, too."
—Robert Bryce, author of A Question of Power: Electricity and the Wealth of Nations

"Visionary thinkers have sketched a future of sustainable abundance based on skillful use of nuclear fusion, the process that powers the stars. Can we get there? How? When? The Star Builders surveys this vibrant frontier of science and technology clearly and realistically. It brings a timely, hopeful message."
—Frank Wilczek, Winner of the Nobel Prize in Physics and author of Fundamentals: Ten Keys to Reality

"What I love about this book is how easily Turrell forgives us for having forgotten the promise of fusion. He makes a convincing case that fusion could be the missing puzzle piece as we struggle to find the perfect complement for renewables. His enthusiasm brings decades of careful scientific research to life, even as the scientists whose work he traces bring fusion to the cusp of fruition."
—Gretchen Bakke, author of The Grid: The Fraying Wires Between Americans and Our Energy Future

"Incredibly readable and entertaining. The book's first-hand accounts of what is occurring inside fusion startups are especially enthralling. Turrell skillfully tells the fascinating story of the personalities, science, and technology that have brought this fledging industry to the point of takeoff."
—Jason Parisi, coauthor of The Future of Fusion Energy

"Painstakingly researched. Turrell gives us a front-row seat to the hard-fought race for fusion, and he offers convincing reasons for optimism. In fact, he shows us a galaxy of effort being directed toward 'building a star.'"
—James Mahaffey, PhD, author of Atomic Adventures

"Arthur Turrell captures the excitement of the race to produce the first commercial fusion energy—perhaps the most important technological race of all."
—Sir Steven Cowley, director of Princeton Plasma Physics Laboratory