Moriarty the Patriot, Vol. 4 (Paperback)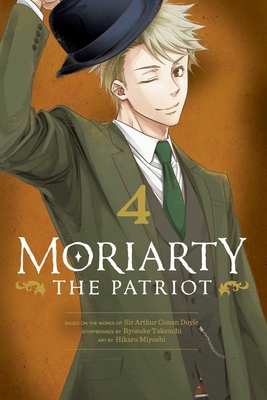 Description
---
The untold story of Sherlock Holmes' greatest rival, Moriarty!

Before he was Sherlock's rival, Moriarty fought against the unfair class caste system in London by making sure corrupt nobility got their comeuppance. But even the most well-intentioned plans can spin out of control—will Moriarty's dream of a more just and equal world turn him into a hero…or a monster?

Mycroft Holmes gives MI6 a top secret mission to put an end to the Third Anglo-Afghan War. William believes Colonel Moran, who once fought in the war, is the right man for the job and asks Albert to recruit the colonel. But will old memories from Moran's past hinder his efforts to assist the mission? Meanwhile, more dark figures lurk in London's nobility, spreading further chaos in the country…
About the Author
---
Ryosuke Takeuchi was born November 20, 1980, in Hyogo, Japan, and is a manga artist and writer. He got his big break in 2011 with ST&RS, his first serialized Weekly Shonen Jump series. He later did the storyboards for All You Need Is Kill.

Hikaru Miyoshi is a manga artist whose previous work includes Inspector Akane Tsunemori, which was based on the popular anime Psycho-Pass.

Takeuchi and Miyoshi began collaborating on Moriarty the Patriot in 2016.