The Dreadful Years: Collected Interviews & Reflections - 2018 to 2021 (Paperback)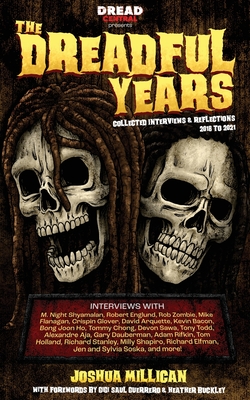 $26.99

Usually Ships in 1-5 Days
Description
---
Forewords by Gigi Saul Guerrero & Heather Buckley
It was the best of times, it was the worst of times. Joshua Millican dreamed of working for a legacy
horror site like Dread Central since he began blogging in the early 2010s. He became a regular
contributor in 2016, Managing Editor in 2018, and through sheer determination and fate, became the
site's Editor in Chief in 2019. But the apex of Millican's career coincided with an unforeseen and
unprecedented pandemic.
The Dreadful Years is more than just a collection of interviews with the biggest names in mainstream
and independent horror. It's a snapshot of the genre immediately before and after everything changed
forever. It's an extended moment that encapsulates the transition between decades, extraordinary
political turmoil, and powerful social revolutions. The Dreadful Years is also something of a hybrid
memoir as Millican reflects on his personal journeys, his successes and failures, the highs and lows of a
life steeped in terror.