True Stories of the Power of the Rosary: With Scientific Evidence For The Faith (Paperback)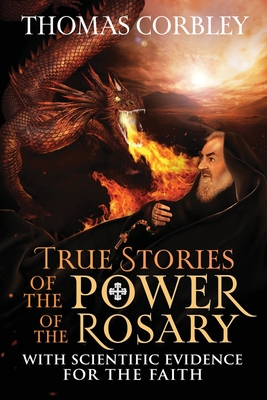 $19.99

Usually Ships in 1-5 Days
Description
---
There's a spiritual battle going on out there, and God wants you to dive in. Jesus and Mary want you to unsheathe your spiritual sword, the rosary, and wreak serious damage upon the forces of evil. God is calling you personally to Mission. God always calls His children to Mission; He calls you, personally, to fight against the giants of darkness and overcome evil, against overwhelming odds. Does this sound like a hero story? IT IS. God is calling you to leave the comfort of the familiar and go on a hero's journey, an adventure you'll never forget This battle will have consequences that will last for eternity, and God is calling you to share in the everlasting victory. In the process, you will develop a personal relationship with Jesus and His Mother, and you will fight to save the souls of your generation.
In her Church-approved apparitions at Fatima, Mary said that many souls go to Hell because they have no one to make sacrifices and pray for them. Because of the amazing interaction between us, called the Communion of Saints, Christianity and Catholicism are a TEAM SPORT. We're all in this together. Your efforts, my efforts, all weigh in the balance and help to get our friends to Heaven.
Modern-day exorcists have heard Satan himself say how much he fears this prayer. He sees a powerful spiritual weapon, a spiritual sword, raised against him.
Read how the Rosary saved a Satanic priest from Satan and how it saved a young girl from a serial killer. Read how it saved John in the World Trade Center on 9/11 and many young girls from Boko Haram. Read how the Rosary helped Jackie find her husband.
How do we know Catholicism and Christianity are real? Jesus provides miracles today, just as He did 2000 years ago, to help support our weak faith. Read about scientifically analyzed evidence for the Faith, including Church-approved Eucharistic miracles, where the Communion Host becomes living heart tissue, the miraculous image of our Lady of Guadalupe, and the Shroud of Turin, the alleged burial cloth of Christ.