Kundalini Energy: Beginner's Guide to Open Your Third Eye Chakra, Increase Awareness, Enhance Psychic Abilities and Awaken Your Energeti (Paperback)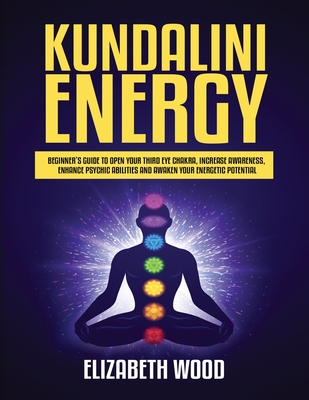 $11.99

Usually Ships in 1-5 Days
Description
---
There are times in everyone's life when they feel lost and alone. Life might not seem to offer much in the way of hope and happiness. The stressful world outside has begun to creep in and disturb their inner peace and calm. The high hopes they had for a fulfilling life seem to fade a little bit more every day. If any of this sounds familiar to you, then you've come to the right place, and this book is for you...
Because this book, Kundalini Energy, is the place that you need to be to get your life back on track. You need to know the Kundalini's energy flowing inside you, and this book will help you achieve that marvelous happening in your life. The issues that plague you physically, emotionally, mentally, and spiritually will all be resolved when you learn how to utilize the Kundalini's energy to make changes in your life. All of the details you need to know about your Kundalini and the power that will flow through you after your awakening is right here inside this book...
In this book you'll learn how to achieve:
Enhanced psychic abilities
Increased creativity
Increased empathy
The purity of your mind and soul
Release of your full potential
And much more...
It might not be easy to believe that something already present inside you can wield so much power over your life, but your Kundalini energy can and will do just that. It has been present inside you since before you were born, and it will be with you until you die. In between those events, the Kundalini energy will drive you to the life you always knew was possible. Once you've taken the steps needed to awaken the vast potential inside you, there will be no limit to what you'll be able to achieve. You'll feel renewed in your spirit, with a greater sense of peace and tranquility. You'll know your proper place in the Universe, and you'll have the skills you need to achieve that place. And you'll feel a greater empathy toward the people in your life...
There are other benefits to awakening your Kundalini. The energy of the Kundalini will cycle through you and take you to the heights of self-realization...
Once you've completed the transformation and come to the level of true self-realization, there will be powers available to you that will allow you to:
Know other astral planes
Understand life afterlife
Connect with the Divine
Know the powers of the Universe
And so much more
Your spiritual transformation will enable you to accomplish your goals and dreams. You'll no longer feel so lost and alone, as your strength will come from within you. You'll learn to create your own happiness, and the stresses of the outside world will no longer exert any effect over your life. Your life will be meaningful and fulfilling. All of the information that you need to know and all of the secrets that will help you achieve this are here in this book. Begin your Kundalini journey to the upper realms of true enlightenment today
Grab your copy of Kundalini Energy now