Single at Heart: The Power, Rewards, and Fulfillment of Singlehood (Hardcover)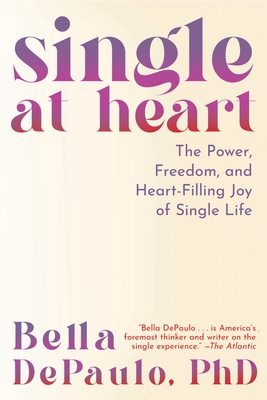 Description
---
From acclaimed social scientist Dr. Bella DePaulo, the leading expert on single life, comes groundbreaking, comprehensive confirmation that a powerful, healthy, happy life is possible not in spite of being single, but because of it.
All-too-often society issues dire warnings about the risks of living single. But is finding a spouse or romantic partner really a requirement for a full life? In Single at Heart, Dr. Bella DePaulo speaks on behalf of the millions of people across the globe who are powerfully drawn to single life for all it has to offer and shares what it means to not just be happy being single for a time, but to be happy being single always.
This pivotal volume addresses misconceptions about single life head on, spotlighting, celebrating, and supporting those who plan to stay single and sharing research, case studies, anecdotal examples, and more to help family members and friends understand. In richly engaging, evidence-based text, Dr. DePaulo--a Harvard-educated professor and researcher whose Ted Talk on the appeal of staying single has had more that 1.6 million views--supports readers of all genders, ages, and backgrounds who are Single at Heart and advises on topics as diverse as solitude, freedom, intimacy, children, and societal pressure.
For Dr. DePaulo, her understanding of herself as Single at Heart provided strength, time, money, confidence, power, authenticity, deep fulfillment, and more. In Single at Heart she shares what she's learned as well as the stories of others, in the process inspiring and fueling a movement of people standing up for what is right for them and thriving because of it.
About the Author
---
Bella DePaulo, PhD, is the leading expert on single life and has been described by The Atlantic as "America's foremost thinker and writer on the single experience." Dr. DePaulo coined the term "Single at Heart" and gave a TEDx talk on the topic in 2017 and today the talk has had more than 1.6 million views. She is the author of Singled Out, The Psychology of Dexter, and How We Live Now, among other titles; has written the column "Living Single" for Psychology Today since 2008; and has been published by the New York Times, the Washington Post, Time magazine, and other outlets, and been interviewed on shows including The Today Show, CNN American Morning, CBS This Morning, Good Morning America, CBS Sunday Morning, Anderson Cooper 360, and Hardball with Chris Matthews. Dr. DePaulo has a BA from Vassar College and a PhD from Harvard University. After two decades as a professor of psychology at the University of Virginia, Dr. DePaulo moved to the West Coast, where she is currently an academic affiliate in the Department of Psychological and Brain Sciences at the University of California, Santa Barbara. She lives in Summerland, CA.