The Ultimate Miami Dolphins Trivia Book: A Collection of Amazing Trivia Quizzes and Fun Facts for Die-Hard Dolphins Fans! (Paperback)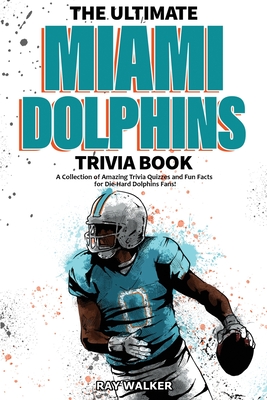 $11.90

Usually Ships in 1-5 Days
Description
---
Do you think you're the ultimate Miami Dolphins superfan?
Do you have a buddy who bleeds aqua and orange for the Dolphins?
Do you want to learn more about the history of your favorite NFL franchise?
Even if you don't answer "Yes" to any of those questions, The Ultimate Miami Dolphins Trivia Book is the best book for learning about the storied history of the Miami Dolphins in a fun, interactive way. This trivia book is packed with interesting facts about the Dolphins from cover to cover, taking you from the dominant Miami teams of the 1970's through Dan Marion's stellar career to the current struggles with inconsistency.
In this book, you'll discover the answers to such questions as:
- Who owns a piece of the Dolphins?
- What was Nick Buoniconti doing at nights early in his NFL career?
- Who is the longest-tenured Dolphins player of all time?
- How much was Larry Little paid as an undrafted free agent?
- Who holds the Dolphins' record for most touchdown catches?
Whether you are a Dolphins fanatic hungry for more information about the team, an NFL superfan craving knowledge about the teams in the league, or just someone who enjoys learning new, interesting facts, this book is right up your alley. You will not be disappointed when immersed in the world of the Miami Dolphins, so just crack open the book, sit back, relax and enjoy the wave of knowledge.