Jim Weiss Ancient History Bundle (The Jim Weiss Audio Collection) (CD-Audio)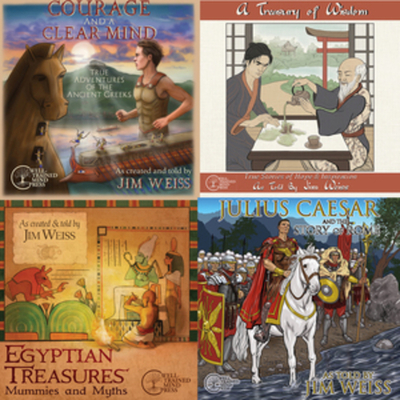 $67.80
Title is Backordered
Description
---
The best of Jim Weiss's stories and biographies from Ancient History. Bundled with Story of the World, vol.1, or on its own, this collection is sure to delight and educate young and old. 
From Egypt's Valley of the Kings to the foot of Mount Olympus, and from the Trojan Horse to the thrilling rise and fall of Julius Caesar, the Ancient History bundle brings the ancient world to life for listeners ages 7 and up.

Four CDs providing close to five hours of listening in one bundle:


Courage and a Clear Mind: True Adventures of the Ancient Greeks


Egyptian Treasures: Mummies and Myths


Julius Caesar and the Story of Rome


A Treasury of Wisdom: Stories of Hope and Inspiration


About the Author
---
In 1989, Jim Weiss set out on a mission: to record the greatest stories he knew from world literature and history, and inspire families -- especially young listeners -- with a passionate love of the original classics. In the three decades since then, Jim's narration voice and seemingly numberless character voices have formed foundational entertainment and education for millions of listeners around the world.
Winning hundreds of awards, Jim's recordings range on the literary side from fairy tales through stories from Shakespeare, Dickens and Conan Doyle, while his history recordings bring to vivid life major historical events and personalities from the ancient world through the twentieth century.
The inspiration for all this began early, with parents and grandparents who told stories and read aloud to him, skills which Jim joyously acquired, and which led him to a degree in Communications and Speech from the University of Wisconsin, Madison. Later, his wife, Randy, earned her own national awards as a teacher and counselor, and their shared passion for learning led to forming their company in 1989, long before the explosion of spoken word recordings made this a "sensible" decision. The recordings began winning listeners and national awards from the first. A few years ago, the Weiss's licensed their recordings and business operations to Well-Trained Mind Press, which has successfully introduced Jim's work into still more markets, while Jim continues to write, record, teach and perform.