Speed Republic Vol. 1 (Paperback)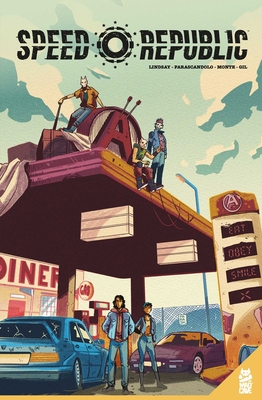 $17.99

Usually Ships in 1-5 Days
Description
---
Sebastian Valencia enters into the Grand Race, a cannonball run style event across Europe where the winner gets a life of luxury. A stark contrast from the dystopian reality of the world.

In the future, Europe has united under one man, The Autocrat. He rules the apocalyptic landscape from corporate monopolies with a vision of unity that is gospel to some, but hollow to others. To distract the 99% from their poor and empty lives, they are given the opportunity to compete in the Grand Race. A marathon street race through Europe where only one driver can make it to the end and win a life of luxury. Our hero, Sebastian Valencia enters with the hope that winning this race can make up for his wasted past, but along the way he starts to question what kind of future he is actually buying into.
About the Author
---
Ryan K Lindsay is an award-winning comic book writer who has worked with Dark Horse, Black Mask, Vertigo, IDW, ComixTribe, and runs his own Four Colour Ray Gun comic imprint. He is Australian and when not being a family man he hones his writing skills by sacrificing blood wombats to the outback spider fight clubs.

Emanuele Parascandolo was born and raised in the exotic and mystical city of Napoli. This Italian boy spends his days working as a freelance Comic Artist and Illustrator and he's a well known procrastinator. He was a student at Scuola Italiana di COMIX and has worked for publishers like Marotto & Cafiero Editori and Hazard. He's a Fantasy and Sci-fi enthusiast, wildly attached to food and he thinks you should know.

Michele Monte, born in 1993, has been trying to make comics for as long as he remembers. Graduated in Advertising Graphics, he continues his path by enrolling in the Comics course at the International School of Comics (Naples). He then continued his studies, enrolling in the Digital Coloring course at the Italian School of Comix (Naples). In 2015 he joined the Neapolitan collective ArtSteady as a colourist and designer. He has several collaborations with Italian and foreign publishing houses, such as Glénat, Dynamite, Disney, Salani Editore, Mad Cave, Noise Press and Shockdom. He works as a graphic designer and letterer for various agencies and private studios. He is professor of Digital Coloring, Character Design and Humorous Comics at the Comix Ars School of Comics in Salerno.

Joamette Gil is a (gender)queer Afro-Cuban cartoonist, editor, and letterer. Joamette has lettered for multiple Mad Cave titles including Nottingham, Becstar, and more. She's also the one-man operation known as Power & Magic Press, publisher of such titles as Heartwood: Non-binary Tales of Sylvan Fantasy and the award-winning Power & Magic: The Queer Witch Comics Anthology. She is a full-time freelancer living in Portland, Oregon, with two furry gremlins.
Praise For…
---
"Ryan K. Lindsay has produced a highly intriguing story, one where the premise bears similarity to Cannonball Run but filtered through dystopian concepts such as Deathrace, The Purge, Rollerball and even Ready Player One [...] Lindsay has built a backdrop of a very rich and detailed world behind the world [...]"
— Pipedream Comics

"I loved every heart-pounding second [...] This race continues to add new layers throughout each issue."

— Comic Book Poser

"An interesting concept with strong characters and high stakes action [...]"
— Multiversity Comics

"An explosive combination of Death Race 2000, a demolition derby mixed with The Hunger Games. [...] To bring it to life, artist Emanuele Parascandolo applies his prodigious talents to great effect along with colorist Michele Monte. Together, they do a great job of balancing the drama along with the race action. [...] A pretty strong start for the series and showing such a great promise for what is to come."
— Geek Vibes Nation

"A strong and fresh creative team with everything to prove have what looks to be the miniseries near the front of the line as it heads to the races with rubber to the road"
— Sean Cohea

"Emanuele Parascandolo and Michele Monte create this kaleidoscope of color that fills every panel creating a dystopia, unlike anything you've ever seen before. It's vibrant and violent at times with some creatively designed collisions that jump off the page. The comic just looks great. "


— Lotus Land Comics

"A great combination of creative skills from all involved and something I am looking forward to seeing more of."
— Dave Jones

"Full of action, cool artwork, and thoughtful musings on a world that is already in dystopian decline, it should prove to be a surprise hit for your pull list, especially for fans of Cannonball Run and Mad Max. It ends on a shocking cliffhanger that leaves me wanting more to see who makes it to the finish line."
— But Why Tho