Cognitive Behavioral Therapy: Made Simple - The 21 Day Step by Step Guide to Overcoming Depression, Anxiety, Anger, and Negative Thoughts (Practical (Paperback)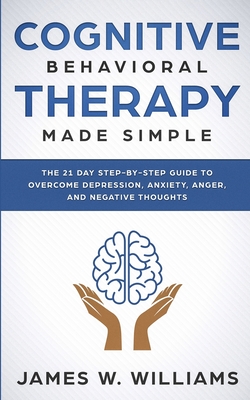 $16.99

Usually Ships in 1-5 Days
Description
---
Do you ever feel like life seems to take extreme delight in brutally dealing with you as far as unfair outcomes? Do you struggle to sustain any sort of relationship in your life? Have you recently experienced an embarrassing emotional outburst that just seemingly happened for no particular reason? If you can relate to these scenarios, then you are not alone.
Cognitive Behavioral Therapy made Simple: The 21 Days Step by Step Guide to Overcoming Depression, Anxiety, Anger and Negative Thoughts provides practical solutions for dealing with your emotions. As a result of each page, you will gain a deeper insight into who you are as an individual and why you probably act the way you do.
Inside this book you will discover:
An in-depth analysis of anger, anxiety, depression, and negative thoughts
The most effective methods used in cognitive behavioral therapy
Simple steps you can implement daily to transform your life in just 21 days
How to control your emotions and subsequently take control of your life
How to be assertive without being aggressive in your relationships with others
A practical guide for living your best life now
and much more
Many books that talk about cognitive behavioral therapy tend to be overly clinical in their approach and esoteric in their methods. In turn, these types of "medical jumbo jumbo" makes it extra difficult for the average person to clearly understand the concept, much less internalize the message enough to apply it to practical use in his or her everyday life. This book brings your common emotional problems to the forefront. It then breaks down the solution that is cognitive behavioral therapy, which essentially is all about putting you in better control of your emotions.
To ensure that you get the most from this book, there is a step by step guide included in the book for daily application. Those steps will get you from where you are now to exactly where you want to be in the future. There is no magic to it. All that is required is a little effort from you, and it starts by you simply flipping to the next page.
Ready to begin this exciting journey to a brand new you? Scroll up and click "Buy Now"