Holes in the Soles of his Gucci Loafers (Paperback)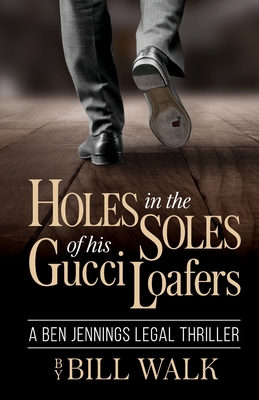 $16.95

Usually Ships in 1-5 Days
Description
---
Two weeks before the biggest trial of his career, Memphis attorney Ben Jennings is on the brink of implosion. Juggling needy clients, an ex-wife, a spendthrift partner, tricky single fatherhood, and the inevitable vicissitudes of fate, Jennings takes on the powerful medical establishment to fight for justice in a tragic case of a newborn's mismanaged care.
Set in Memphis, Tennessee, Holes in the Soles of His Gucci Loafers is a courtroom drama that does side duty as a travelogue, taking the reader on a journey through tree-lined streets, lovely historic neighborhoods, and hole-in-the-wall BBQ joints of a town bisected and defined by the mighty Mississippi River. Beneath the city's charm, however, are the unspoken truths of a centuries-old class system that extends to all corners of life . . . and the law.
Holes in the Soles of His Gucci Loafers is the first book in the Ben Jennings Legal Thriller series. Written by Bill Walk, a long-time attorney from Memphis, the novel pulls back the curtain on the lives of high-stakes trial lawyers. Fans of Scott Turow and John Grisham will enjoy this fresh take on the men and women who fight for the little guy.
Bill Walk is a trial lawyer who specializes in advocacy for persons who have suffered serious injuries due to the medical system. He is married to Margaret Walk and has four children.