99 Poems to Cure Whatever's Wrong with You or Create the Problem's You Need (Paperback)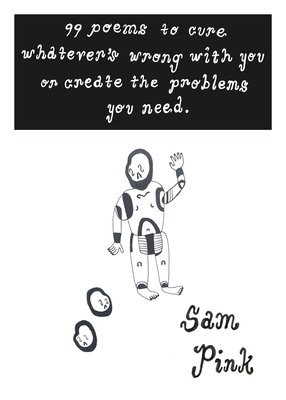 $14.95

Usually Ships in 1-5 Days
Description
---
you have just been killed by a thousand tiny cuts.
99 to be exact. bleeding out to the backdrop of this new cartoon. a woodchuck in a tiny witch hat laughs at you, as you lay down, hands over your chest and think, 'perfect.' and a red light atop a powerline blinks in the distance to remind that there is no end, only one long try, deflate at your own pace. don't fight the freefall. 99 poems to cure whatever's wrong with you or create the problems you need. and yes, you need. im your fucking dad, honey. admit it, or we'll never get out of this alive.
About the Author
---
SAM PINK's books include Person, The No Hellos Diet, Hurt Others, Rontel, Witch Piss, and The Garbage Times/White Ibis. His writing has been published widely in print and on the Internet and translated into other languages. He currently lives in Michigan and sells paintings from instagram.com/sam_pink_art.