Little Fish: A Memoir From A Different Kind of Year (Paperback)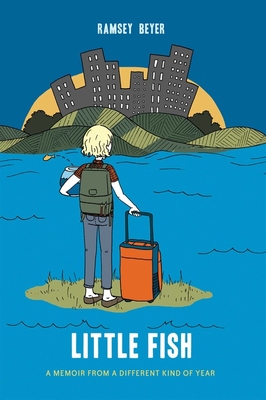 Description
---
Told through real-life journals, collages, lists, and drawings, this coming-of-age story illustrates the transformation of an 18-year-old girl from a small-town teenager into an independent city-dwelling college student.
* YALSA Outstanding Book for the College Bound 2014
* Texas Library Association (TLA) Maverick Graphic Novel Reading List 2013
* Independent Publisher Book Award (IPBA), Independent Voice Award Winner 2014
* YALSA Quick Picks for Reluctant Young Adult Readers Nominee 2014
* Cooperative Children's Book Center, CCBC Choices 2014
* CBC Teen Choice Book of the Year Award Nominee 2013
* Foreword Reviews Book of the Year Finalist 2013
* Cybils Children's & Young Adult Blogger Awards – Graphics Nominee 2013
About the Author
---
Ramsey Beyer is a comic artist and freelance illustrator living in Philadelphia. She is the author and illustrator of two autobiographical graphic novels, Little Fish: A Memoir from a Different Kind of Year (Zest, 2013), and Year One (2012). Beyer has also been published in several books, including Fanzines by Teal Triggs, Make a Zine!, and Don't Leave Your Friends Behind.
Praise For…
---
"It's a familiar notion, the sense of being a little fish in a big pond. This awareness may arrive at an early age for some, while running inexplicably late for others. But for eighteen-year-old Ramsey Beyer, a lover of lists, lakes, and bonfires, this epiphany arrives with a traditional right-of-passage: the start of college. Beyer . . . chronicles her transition from Midwest high school senior to city-savvy first year art student in her debut memoir. Like many pre-undergrads, she precariously balances on the teeter-totter of change and consistency that comes with college acceptances, graduation, and the unstoppable arrival of the first autumn away from home. Beyer demonstrates maturity and insight when constructing a list of what her home environment lacks and what the prospect of life in a more populated setting might bring, highlighting both the positive and negative possibilities."
- Cleaver Magazine
"An autobiographical graphic pastiche recounts the author's experience of leaving her rural hometown and going to art school in a new city. Ramsey spent her first 18 years in the quiet town of Paw Paw, Mich., but she knew that she wanted to leave her comfort zone. After applying to a number of art schools—which she chose based on location and relative vibrancy of their punk scenes—she selects an art institute in Baltimore. She makes friends easily and shares her experiences of freshman year: being silly, pulling all-nighters and hanging out. As the semester wanes, the group's dynamics shift, and Ramsey finds herself about to start her summer with a new boyfriend, Daniel. Ramsey's an obsessive list-keeper, and her recollections are liberally peppered with catalogs of things she thinks about, memories drawn as comics and snippets from her journal. Being in her head is an intensely personal experience, but readers may feel oddly disconnected from her social life and her interplay with her peers. One of her professors tells her that she has "such a wall around [herself]"; this seems especially true in many places throughout her memoir.
Despite its split personality, her story is easy to relate to and recommended for fans of Raina Telgemeier and Laura Lee Gulledge. (Graphic memoir. 13 & up)"
- Kirkus
"Beyer's debut, a graphic novel-style-autobiography, takes a potentially edgy subject - the first year at an art school full of outsiders and punk fans - and treats it in a wholesome way. She combines sheaves of typewritten lists (artifacts from her own first year) with naif-style panel sequences to trace her transition from smalltown Michigan little fish" to settled-in student in Baltimore. She writes surprisingly little about art and almost nothing about her own work. Instead, journal entries describe her feelings about where she comes from ("I have really supportive parents who encouraged me to go to art school") and her social encounters: "Being here is just weird sometimes. Everything is uncertain. I don't know how I feel. I don't know how people feel about me." As freshman year unfolds, Ramsey realizes a boy likes her, and she allows herself to like him back.: "The main source of my happiness right now? Daniel and his cute face and how dorky he is." Beyer's b&w cartooning has a homey indie-comics vibe…"
- Publishers Weekly