This Bridge Will Not Be Gray (Hardcover)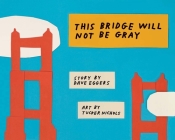 $19.95
Title is Backordered
Description
---
One of Publishers Weekly's Best Picture Books of 2015.
The Golden Gate Bridge is the most famous bridge in the world. It is also, not entirely coincidentally, the world's first bright-orange bridge. But it wasn't supposed to be that way. In this book, fellow bridge-lovers Dave Eggers and Tucker Nichols tell the story of how it happened?how a bridge that some people wanted to be red and white, and some people wanted to be yellow and black, and most people wanted simply to be gray, instead became, thanks to the vision and stick-to-itiveness of a few peculiar architects, one of the most memorable man-made objects ever created. Told with playful paper cut-outs and irresistible prose,
This Bridge Will Not Be Gray
is a joyful history lesson in picture-book form?a gorgeously crafted story that teaches us how beauty and inspiration tend to come from the most unexpected places. Sometimes you have to fight for what you believe in, even if it's just a color.
About the Author
---
Dave Eggers is the best-selling author of ten books including A Hologram for the King, a finalist for the National Book Award; Zeitoun, winner of the American Book Award and Dayton Literary Peace Prize; and What Is the What, a finalist for the National Book Critics Circle Award and winner of France's Prix Medici. Eggers lives in Northern California with his wife and two children. Tucker Nichols is an artist based in Northern California. His work has been featured at the Drawing Center in New York, the San Francisco Museum of Modern Art, the Denver Art Museum, Den Frie Museum in Copenhagen, and the Asian Art Museum in San Francisco. His drawings have been published in McSweeney's, The Thing Quarterly, Nieves Books and the Op-Ed pages of The New York Times.