What Do I Say about That?: Coping with an Incarcerated Parent (Paperback)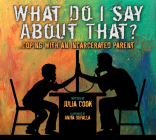 $9.95

Usually Ships in 1-5 Days
Description
---
Why can't he see what he did to me - to our family?
This book takes a unique look at the internal struggles with which a child of an incarcerated parent is faced.
My dad says that drugs and alcohol
made him choose to do the wrong things.
But he could have said no to the drugs and the booze,
then my life wouldn't be what it seems.
Why didn't he love us enough to say no?
Aren't we worth it to him?
He had a choice...us or drugs.
He chose to let the drugs win.
What Do I Say About That? creatively explores and validates the roller coaster journey of emotions that children of incarcerated parents endure. It also gives insight to the process of healing and coping.
About the Author
---
Julia Cook, M.S. is a national award-winning children's author, counselor, and parenting expert. She has presented in thousands of schools nationally and internationally, regularly speaks at education and counseling conferences, and has published children's books on a wide range of character and social development topics. The goal behind Cook's work is to actively involve young people in fun, memorable stories and teach them to become lifelong problem solvers. Inspiration for her books comes from working with children and carefully listening to counselors, parents, and teachers, in order to stay on top of needs in the classroom and at home. Cook has the innate ability to enter the worldview of a child through storybooks, giving children both the what to say and the how to say it.