Zinn & the Art of Mountain Bike Maintenance: The World's Best-Selling Guide to Mountain Bike Repair (Paperback)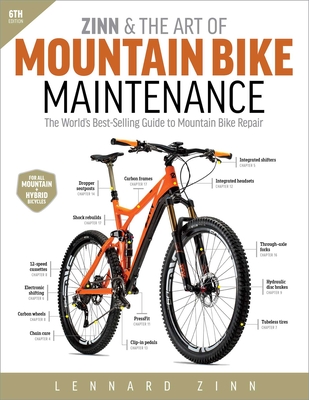 $26.95
Title is Backordered
Description
---
Zinn & the Art of Mountain Bike Maintenance is the world's best-selling guide to the maintenance and repair of mountain bikes, hybrids, and fat bikes. From basic repairs like how to fix a flat to advanced overhauls of drivetrains and brakes, Lennard Zinn's clearly illustrated guide makes every bike repair and maintenance job easy for everyone.
Lennard Zinn is the world's leading expert on bike maintenance and repair. His friendly, step-by-step guide explains the tools and parts you'll need and how to know you've done the job right. The book's two-color interior is easy to read--even in a dimly-lit garage or workshop. Hundreds of hand-drawn illustrations and exploded-parts diagrams show just the right level of detail to lead you through every mountain bike repair task.
This smartly organized guide shows how to repair new and old mountain bikes from top to bottom. In over 500 pages and more than 750 illustrations, Zinn's guide includes simple instructions for hundreds of mountain bike maintenance and repair jobs:
- Basics: How to fix a flat tire, lube a bicycle chain, adjust the brakes
- Emergency repairs: How to fix a broken chain, tighten loose spokes, repair a bent derailleur
- Easy shifting: How to adjust shifters, derailleurs, and cables for clean and smooth shifting
- Wheels: How to true a wheel, install a new tire, change a cassette, replace broken spokes, build your own wheels
- Overhauls: How to service and replace pedals, chains and chainrings, saddles, handlebars, stems, headsets, forks, bottom brackets
- New tech: How to maintain 1x-speed systems, electronic and wireless shifters
- Troubleshooting: How to figure out what's wrong with any bike and fix it
Zinn & the Art of Mountain Bike Maintenance makes bicycle repair and maintenance easy, quick, affordable, and fun. With Zinn at your side, you'll know how to keep your bicycle running smoothly for years.
What's New in Zinn & the Art of Mountain Bike Maintenance, 6th Ed.:
- New chapter on electronic shifting covers maintenance, service, repair, and troubleshooting of all Shimano electronic shifting groups. Also included: How to program your electronic shifting system for personalized shifting as well as real-time display and shift recording on a head unit.
- New chapter on disc brakes covers maintenance, service, and repair of all hydraulic and mechanical systems. Includes integrated systems and their bleeding requirements.
- New guides on how disc brake mounting adapters work and how to install them.
- Complete info on the new 11-speed and SRAM 12-speed drivetrains.
- Info on all the newest bottom brackets including 1x11 and 1x12 systems.
- New guidelines on wheel size selection for your frame size, suspension settings, and travel.
- New procedures for mounting and sealing tubeless tire systems.
- New usage guidelines for flat-prevention sealants.
- Updated guides on replacing press-in bottom brackets with thread-in bottom brackets.
- New wheel lacing guidelines for building disc-brake compatible wheels.
- More than 750 comprehensive illustrations and exploded views including 150 new or revised illustrations.
- Updated and expanded guides on how to tune, rebuild, and maintain suspension forks and rear shocks. Includes tuning guides for preload, compression, rebound, and sag.
- Updated and revised troubleshooting tables, torque tables, and gearing charts for 26", 27.5", and 29" bikes.
- Also covered in the 6th edition: All derailleur shifting systems; all bottom bracket systems; all brake systems; all headset, stem, handlebar and fork systems; wheelbuilding for all bikes; updated and expanded torque tables; complete indexes of all illustrations and topics covered.
Whether you're riding a classic Stumpjumper or a carbon-fiber race machine, Zinn has got you covered
About the Author
---
Lennard Zinn is the world's leading expert on bike maintenance and repair. He is a world-renowned bicycle technician, frame builder, and tech writer for VeloNews magazine and VeloNews.com.Zinn was a member of the U.S. national racing team and has been riding and fixing bikes for nearly 50 years. A professional frame builder for his business Zinn Cycles, Lennard hosts the popular bike tech Q&A column on VeloNews.com.His best-selling bike maintenance and repair books include Zinn & the Art of Road Bike Maintenance, Zinn & the Art of Triathlon Bikes, Zinn's Cycling Primer, The Mountain Bike Performance Handbook, and The Mountain Bike Owner's Manual. He lives and works in Boulder, Colorado.