Workouts in a Binder for Swimmers, Triathletes, and Coaches (Spiral)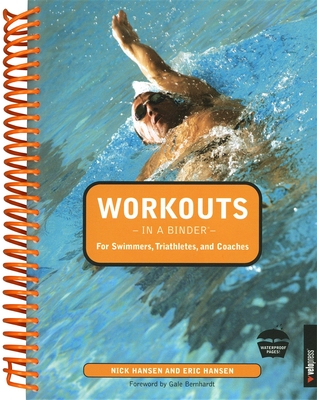 $29.95
Title is Backordered
Description
---
This waterproof book of 100 swimming workouts offers swimmers and triathletes a wide variety of structured workouts to improve swimming fitness, technique, and speed. Using all four competitive swim strokes (freestyle, breaststroke, backstroke, and butterfly), swimmers and triathletes will strengthen more of their swimming muscles than by swimming freestyle alone.

Nationally recognized swimming coaches Nick and Eric Hansen offer 6 effective training plans to improve fitness and speed. Triathletes, masters, and collegiate swimmers will swim long-distance, middle-distance, sprint, IM, and stroke workouts to improve all swimming abilities.

Choose between a standard "A workout" and a modified "B workout," for those with less time or stamina. Spiral bound and printed on durable, waterproof cards, these swim workouts are specially designed to be used and abused at the pool.
About the Author
---
Nick Hansen holds a graduate degree in exercise physiology. He is a former U.S. National Team swimming coach, University of Wisconsin head coach, University of Arizona assistant coach, and the Loveland Master's team coach. Nick also served as an exercise physiologist at the University of Wisconsin Sports Medicine Clinic. Eric Hansen has national and international experience as a member of the U.S. National Team as an athlete and coach. Currently he is the head men's and women's swimming coach at the University of Wisconsin. In 2004 he coached an athlete who won a gold medal and set a World Record at the Olympic Games. He was also the head coach for the 2003 Pan American Games and the 2002 Short Course World Champion ship. Eric holds a master's degree in exercise physiology from the University of Arizona and a bachelor's degree from Iowa State University.