The Science of Hope: Eye to Eye with our World's Wildlife (Hardcover)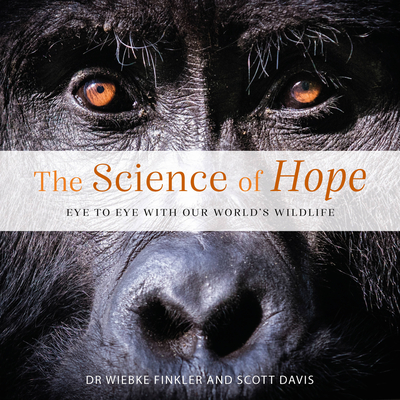 $29.99

Usually Ships in 1-5 Days
Description
---
A breathtaking visual journey exploring why certain animal species capture our attention, and showcasing hopeful conservation efforts around the world.
From polar bears to mountain gorillas, penguins to sea otters, certain animals capture our imagination. These are the animals that become mascots for conservation campaigns. By why these creatures instead of other equally endangered animals? The answer lies in their cuteness or charisma!
The great white shark fascinates us even as we fear it. The comical waddle of the penguin entrances us. Illustrated with breathtaking images by one of the world's leading wildlife photographers, The Science of Hope informs as it educates, describing the psychology and science behind our desire to connect with these animals while promoting a message of hope by highlighting positive conservation efforts around the world.
About the Author
---
Dr. Wiebke Finkler is a creative marketing researcher, filmmaker and science communicator. With a background in marine biology, Wiebke has a special interest in how filmmaking combined with community-based social marketing can be used as a tool for human–wildlife management, sustainable development, conservation, and social good. Wiebke is currently a lecturer in the Department of Marketing, University of Otago, New Zealand.
Scott Davis is a wildlife researcher, international photography expedition leader, and professional assignment photographer specializing in wildlife, travel, documentary and editorial imagery. Originally trained as a wildlife and marine biologist, Scott's research, photo assignments and expeditions have repeatedly taken him to the far-flung corners of the globe and all seven continents.
Praise For…
---
When I first started reading The Science of Hope, I was immediately impressed by its beautiful illustrations and rich content. What most impresses me about this book is that it does not just point out problems but also provides workable solutions. It connects a spectrum of field professionals across disciplines so their messages are direct, stories are empirical, and suggestions are practical. Not to mention the amazing photos taken by Scott for each animal, making this book even more compelling for people to take action and make a difference.—Our Narratives

The book is wonderful, it really is. As much at home as a coffee table book as it is as a reference guide, this book is a revelation and a celebration of nature in its finest form. It is both a beautifully captured portrait of nature and an uplifting view of what can be if we are willing to take some risks and try something new.—NZ Booklovers

This stunningly produced book, alive with Scott Davis stunning photography … is guaranteed to rekindle childhood wonder in even the worst pessimist.—Good Organic Gardening

This collection of stunning wildlife photography celebrates the charismatic creatures that serve as ambassadors for conservation campaigns around the world.—The Gardens Magazine (Royal Botanic Gardens Sydney)

A new book exploring the success of conservation efforts across the globe aims to empower people to make a difference rather than be paralysed by environmental 'hopelessness.'—Adore Animals