Children are Struggling in this New World: The challenges that pre-teens and teens are faced with, their causes and effects, and what parents, guardia (Paperback)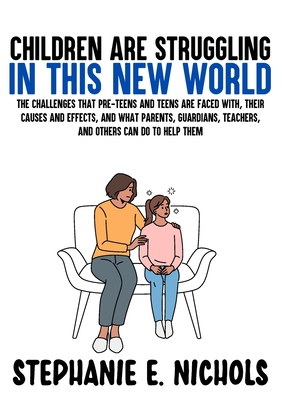 $12.99

Usually Ships in 1-5 Days
Description
---
Although the majority of us don't recall our formative years, our earliest memories can stay with us for a long time and have an impact well into adulthood. Many of us are still affected by the things that we went through as children, which continue to impact our happiness, well-being, achievements, and so much more. We often wish things had been different or that someone had stepped in to help us while we were children.
Not to downplay anything that we went through as kids, but in today's new world, children often have it ten times harder. They have access to the entire world in the palm of their hands, literally, which can both be good and bad. From cyberbullying to child abuse, eating disorders, low self-esteem and social pressure, Children are Struggling in this New World, looks at these five challenges that children have to overcome today. The book carefully explores the causes, effects, and coping mechanisms of these problems, how they pervade adulthood, and how children can heal from the effects of these problems. Very short stories are included to provoke insight and aid in the explanation of the seriousness of these problems.
As parents, teachers, therapists, guardians, counsellors, etc. we can make a difference in our children's lives to help them become healthy functioning adults.