The Solitary Gourmet (Hardcover)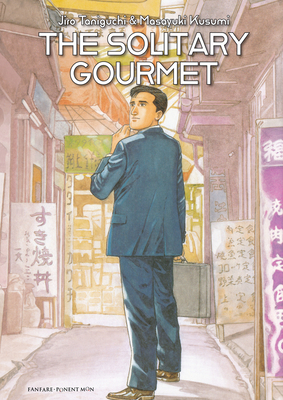 $30.00

Coming Soon - Available for Pre-Order Now
Description
---
THOUGHT FOR FOOD

This is the book in which nothing happens but everything is consumed! Like 'The Walking Man' at lunch!!

What do we learn about Mister Inogashira? He's a sole, independent trader importing household and fashion goods from France. He is always busy but never rushed as he travels around Japan selling his wares. He's a private person who, whilst he enjoys the company of women, prefers to remain a bachelor. He smokes cigarettes but never touches alcohol. But above all, he enjoys his food! He is The Solitary Gourmet!

Each of the thirty-two chapters explores another dish in another restaurant in another part of town – from Tokyo to Tottori, from Osaka to hospital (yes!) and even ventures to an Algerian restaurant in Paris, eating and observing.

This volume collects all 32 chapters serialized over two decades (originally in Fusosha's monthly 'Panja' magazine) and includes the special hospital chapter.

Like an exquisite meal, this book should be savored over and over again.
About the Author
---
One of Japan's most acclaimed mangakas, Jiro Taniguchi was born August 14th, 1947 in Tottori, Japan. He is the creator of such award winning titles as 'The Walking Man', 'A Distant Neighborhood', A Journal Of My Father', 'A Zoo In Winter' and many, many more spanning biography, action, adventure, history, slice of life and other subjects. He sadly died February 11th, 2017 aged just 69. Masayuki Kusumi was born July 15th, 1958 in Tokyo, Japan. He is a screenwriter, short story writer, documentary filmmaker, press and television columnist, and musician. He is best known for 'The Solitary Gourmet' (1994 - 2015), 'Hiru No Sento Zake' (2016) and 'Samurai Gourmet' (2017). He continues to live and work in Japan.
Praise For…
---
"Taniguchi's careful compositions {...} achieve a contemplative beauty." —Andrew D. Arnold, Time.com

 

"****" —Kevin Church, About.com

 

"We'd all be the poorer without Taniguchi's delicate and beautiful comic creations." —Greg McElhatton, Read About Comics
 

"Jiro Tanigucho's art is never anything short of gorgeous..." —Michelle Smith, Manga Recon