Choice & Courtship: A Step Towards the Altar: Discover How to Chose a Mate and the Relevance of Counselling Before You Say I Do (Paperback)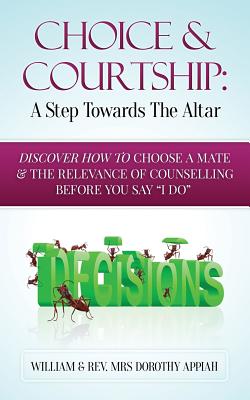 $12.97

Usually Ships in 1-5 Days
Description
---
Marriage is for life. Onece you have decided to be part of the institution, you must ensure you succeed. We decided to write about the basics for choosing a partner, courtship and finally marriage in order to enlighten readers on what they need to know before plunging into it. Some people have described the institution of marriage as a life sentence; onece you are in it, you must sustain it.
Most of the time, young people have no information, knowledge or understanding of what they will face. Several young people have entered into marriage in ignorance only to find out that "not everything that glitters is gold".
We have tried to provide a range of information from a personal perspective, from the experts and also from the Bible. We have had our own experiences regarding these issues. Our experience in marriage counselling over the past ten years has opened our eyes to the fact that with a proper foundation, people can sustain their marriage, especially when the wind of change blows.
The important thing about courtship is the time it enables you to spend together with your mate; to study each other, ask questions and get the necessary clarifications about issues. Courtship is not marriage and therefore you should not throw caution to the wind. However, if this opportunity is missed because you think you can now break your set boundaries and start indulging in sex among others, then you are in for future disappointment.
In all issues concerning relationships, you must be guided by the word of God. He is the one who instituted marriage and therefore has all the answers. We need to pray constantly in our search for partners and for our marriage. In all things, ask for wisdom from God. He alone can provide you with it in abundance.
Lastly, seek counselling. It is a sign of strength. Further knowledge, in addition to that which you already have, will ensure that you enjoy a happy lasting marriage in the future. Whilst we are aware that good marriages start long before the premarital counselling, a counsellor is necessary to help you through the changes you will be facing. Therefore, we have included valuable information to explain what premarital counselling is, the goals, the reasons for choosing premarital counselling as well as information on when to begin the counselling.
Marriage can be happy and fulfilling but also involves effort, risk, and times of difficulty and disappointment. These are not easy experiences. When you have a better foundation and the storms of life hit your marriage, your anchor will hold. When things seem to go wrong and you have the right partner, the strong foundation you have laid will help you through. You can work through the challenges and problems in life with a compatible partner with far greater success than with someone who was the wrong choice.