Star Trek Shipyards Star Trek Starships: 2294 to the Future The Encyclopedia of Starfleet Ships (Hardcover)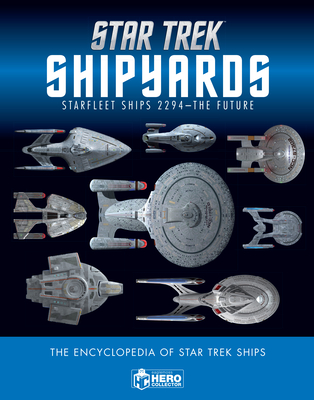 $29.95
Title is Backordered
Description
---
The second volume in a chronological history of the Starfleet starships in Star Trek TV and films, from the 24th century to the far future!

This in-depth reference book covers Starfleet vessels including the U.S.S. Enterprise, NCC- 1701-D, U.S.S. Voyager and Starfleet's first true warship - the U.S.S. Defiant. The final chapter features time traveling ships from the distant future.

All the featured ships are illustrated with CG artwork, including original VFX models made for the TV show.

The second volume presenting the first chronological history of all of the Starfleet ships featured in the Star Trek television programs and films. This volume presents the technical information, service history, and artwork of the iconic ships featured in Star Trek: The Next Generation, Star Trek: Voyager, Star Trek: Deep Space Nine, Star Trek: First Contact, and Star Trek: Nemesis.
About the Author
---
Ben Robinson is best known as the man behind Eaglemoss's Official Star Trek Starships collection, which in the last three years has become the largest and best-regarded collections of model Star Trek ships ever produced.

He has been involved with Star Trek for 20 years. Ben was the launch editor of the hugely succesful Star Trek Fact Files reference work, which sold over 50 million units. Then he went on to edit the US Star Trek: The Magazine, which ran between 1999 and 2003. He has co-written two Haynes Manuals, the first featuring all seven Enterprises, and the second focusing on the Klingon Bird-of-Prey. Ben is particularly passionate about the writing, design, and visual effects behind the series. In the last two decades he has conducted extensive interviews with many of the most significant figures in the history of Star Trek from Dorothy Fontana and Matt Jefferies to Michael Piller, Ira Steven Behr, Ron D. Moore, and Bryan Fuller.
Praise For…
---
"Hero Collector's Star Trek: Shipyards – Starfleet Ships 2294 – The Future is a brilliant looking Star Trek book and one that is worthy of belonging on any Trekkies bookshelf." – Flickering Myth

"… really fun books that offer undoubtedly the most comprehensive in-universe guide to Star Trek starships ever assembled." – The Trek Collective

From the Inside Flap

This volume features small transports, fighters, multi-mission explorers and time traveling ships from the distant future. Each ship is illustrated with CG artwork, including original VFX models made for the TV show, alongside a technical overview and operational history. Chapters include size charts, showing the ships to scale. An appendix of class listings is featured at the back of the book.

STAR TREK SHIPYARDS is a series of lavishly illustrated books that provide in-universe profiles of STAR TREK ships, building into the ultimate illustrated encyclopedia of STAR TREK vessels. Each ship is profiled with technical information, operational history and plan view CG renders – wherever possible using the original VFX models that were used on the TV shows and movies.