The 50 States: Explore the U.S.A. with 50 fact-filled maps! (Hardcover)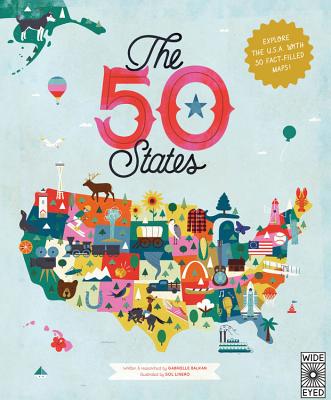 $30.00

Usually Ships in 1-5 Days
Other Books in Series
This is book number 1 in the The 50 States series.
Description
---
In 51 charmingly illustrated infographic maps, explore every state of the USA from Alabama to Wyoming and the nation's capital to discover more than 2,000 facts that celebrate the people, cities, nature, and historic events that have helped make America what it is today. You'll also get an expansive guide to the state flags and US presidents.

Ghost towns, swamp tours, the center of the universe…bacon donuts, brainy berries, salmon jerky…The French Fry King, The Mother of Oregon, The Queen of Blues…be inspired by the inventiveness, beauty, and diversity of the United States in this curious collection of fact-filled maps.

On each wonderful map, find:
A welcome box with a short introduction to the state
Key facts, including the capital; state bird, flower, and tree; and statehood order
State icons celebrating the state's people, places, and history
Six inspiring people who have a connection to the state
Region spotlight bubbles to allow you to discover more about one particular place
A moments to remember box with a list of significant dates and their events in the state's history
Each state's map also contains information about which states it neighbors, its bodies of water and borders, as well as where it is situated in the country. Did you know that while Hawaii shares its border with no one, both Missouri and Tennessee border eight other states? Many state parks, battlefields, national forests, and reservations are also included to inspire you to respect and explore the great outdoors.

So pack your bags and say later 'gator…the great States await!

The 50 States series of books for young explorers celebrates the USA and the wider world with key facts and fun activities about the people, history, and natural environments that make each location within them uniquely wonderful. Beautiful illustrations, maps, and infographics bring the places to colorful life.

Also available from the series:50 Trailblazers of the 50 States, Only in America Activity Book, Only in California, Only in Texas, We Are the United States, 50 Adventures in the 50 States, 50 Maps of the World, 50 Maps of the World Activity Book, and Only in America.
About the Author
---
Author Gabrielle Balkan has written over 20 books for children, including the Mr. President series for Scholastic. She lives and works in New York.
Sol Linero is a children's book illustrator and graphic designer from Buenos Aires. Her distinctive artwork is filled with rich detail, bright colors and a love for local culture. She has worked for Airbnb, Pottery Barn Kids, Unicef and international magazines such as Oprah, Jamie Oliver, Wired and Scholastic. With Wide-Eyed Editions, Sol has also illustrated the bestselling 50 States series.
Praise For…
---
"Author Gabrielle Balkan's research and writing draws readers in with a fun mash-up of history, geography and pop culture, while Sol Linero's illustrations make every spread a delight."
—
BookPage
"A great read to share with your young one. Bright and colorful, you'll enjoy it as much as they will!"
—
Design Sponge
"For Those Who Pride Themselves on Knowing Their State's Flower/Bird/Motto. A large-format atlas of the U.S., The 50 States is chock-full of interesting facts, trivia and history."
—
Family Circle
"When I first laid eyes on The 50 States, written and researched by Gabrielle Balkan and illustrated by Sol Linero, I absolutely had to have it because I think it's easily the most delightful book on the topic that I've ever seen."
—
Inhabitots
"There are Tlingit nation canoes in Alaska, Walden Pond in Massachusetts, Harpers Ferry in West Virginia (but also the first pepperoni roll and first red-brick street; not all icons are serious business)."
—
Kirkus Reviews
"Readers will enjoy browsing this oversized and colorful atlas of the United States....will offer hours of browsing pleasure."
—
Literacy Daily (International Literacy Association)
"A big, beautiful educational journey across the U.S."
—
Pretty Prudent
"A stylish atlas that evokes the character and diversity of the country, equally suitable for coffee tables or family vacations."
—
Publishers Weekly
"Open the large formatted book and explore the United States. Each state (and the District of Columbia) is presented handsome, colorful, and highly informative maps to create a memorable journey."
—
Reading Rockets
"The engaging, colorful pages, high interest facts, and intriguing material make this a volume that has appeal for a wide audience."
—
School Library Connection, Highly Recommended
"A colorful introduction to the 50 states....an above-average title on a popular topic, and state trivia enthusiasts will find it entertaining and useful." -"
—
School Library Journal
"Surprises abound in The 50 States, a splendid reference, coffee-table book and conversation starter for anyone, anywhere."
—
Shelf Awareness