The Physician's Daughter (Paperback)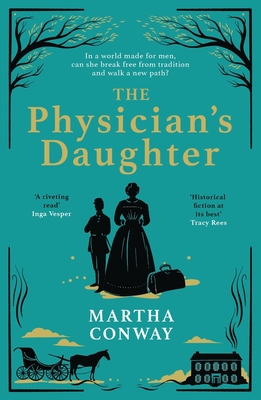 $16.95

Usually Ships in 1-5 Days
About the Author
---
Martha Conway has been nominated for an Edgar Award and won the North American Book Award for Best Historical Fiction. Martha teaches creative writing for Stanford University's Continuing Studies Program and UC Berkeley Extension. Born in Cleveland, Ohio, she is one of seven sisters. She now lives in San Francisco with her family.
Praise For…
---
"In the proud tradition of female characters from Jo March to Meredith Grey, Vita Tenney takes her place as a determined woman unwilling to let society or her family control her destiny. I
was captivated by
The Physician's Daughter
. The novel stays with you."
―Tony Phelan, executive producer of Grey's Anatomy and Council of Dads
"Vividly realised, and impeccably researched,
with a determined female lead
." —Kayte Nunn, author
, The Forgotten Letters of Esther Durrant
PRAISE FOR PREVIOUS TITLES:
"Creating a perfectly straight seam finds echoes throughout the book in plot devices and metaphors, even in saving souls, and it may come as a surprise how lively and sustaining this lost art can be.
Twain has his 'Life on the Mississippi.' Conway's life on the Ohio makes you see the place
, through May's eyes, in all its muddy glory." —
New York Times Book Review
on
The Underground River
"
Completely charming
." —Imogen Hermes Gowar, author
, The Mermaid
and
Mrs Hancock on The Underground River"
A captivating, thoughtful, and unforgettable read." —
Kathleen Grissom, author, The Kitchen House,
 on
The Underground River
"It is part of
Martha Conway's gift as a writer to weave stories from the richest and most interesting periods of American history
. . . . A riveting and atmospheric novel about slavery, betrayal and redemption, with a memorably forthright heroine, and a plot as fast flowing and twisty as the river itself." —
Louisa Treger, author of The Lodger
, on
The Underground River
"Features
prose as rich as its characters
. . . .  A hypnotic, capacious and cutting evocation of a bleak period of American history. An elegiac, hopeful historical novel." —
Kirkus Reviews
on
Thieving Forest