The Amazing Maurice: The Art of the Film (Hardcover)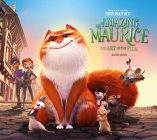 Description
---
The official art book for the animated movie The Amazing Maurice, based on the Carnegie Medal-winning Discworld novel by Terry Pratchett

Maurice is a streetwise talking tomcat who comes up with a money-making scam by befriending a group of talking rats and finding a dumb-looking kid who plays a pipe. When Maurice and company reach the stricken town of Bad Blintz, they meet a bookworm called Malicia and their scheme soon goes down the drain.

The Art of the Film is a coffee table hardback celebration of the creative process of bringing The Amazing Maurice to life, including exclusive concept designs, character sketches, storyboards and production art, alongside insight from the artists, filmmakers and directors.
About the Author
---
Ramin Zahed is an LA-based author and journalist who specializes in animation, VFX, pop culture, and indie films. The Editor in Chief of Animation Magazine, he has written for Variety, The Hollywood Reporter, Sight and Sound, and others. Among his recent books are Spider-Man: Into the Spider-Verse The Art of the Movie, The Art of Captain Underpants, The Art of The Mitchells vs. The Machines, The Art of Boss Baby, and J.K. Rowling's Wizarding World: Movie Magic Vol. 2.