Manga Art Fashion Secrets: The Ultimate Guide to Making Stylish Artwork in the Manga Style (Paperback)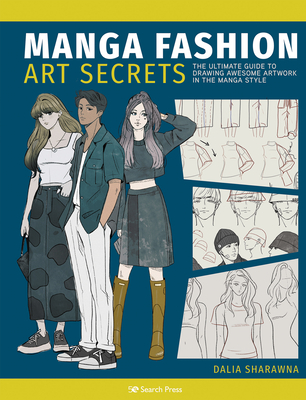 Description
---
Master Manga fashion art with the definitive guide to drawing awesome fashion artwork in the manga style!

Dalia Sharawna, author of the bestseller Manga Art Secrets, shows budding artists how to bring manga characters to life with fashionable clothes and accessories
Clothes and accessories are the perfect way to give your manga characters energy and develop their unique identities. From on-trend streetwear to traditional and formal clothing, the way that your character is dressed is an instant way to tell a story.
Join Dalia and her thousands of fans and learn how to draw fashionable manga clothes that show personality, character, and mood. Packed with everything you need to know to draw a huge variety of cool clothes and accessories in the manga style, this detailed guide covers a range of styles and looks to take your manga characters to the next level.
FOR VISUAL LEARNERS - Packed full of step-by-step drawings for formal and casual outfits, sportswear, and accessories. Learn how to give your work personality and style with Dalia Sharawna's tutorials for a huge variety of on-trend looks to dress your characters in.
BUILD A PORTFOLIO - At the end of each chapter is a series of practice exercises where you're encouraged to trace or freehand draw subjects from earlier on. You'll end up with a portfolio of sketches charting your artistic development.
ARTISTS-IN-RESIDENCE - 5 contemporary artists take up residence on these pages, sharing their manga fashion secrets and showcasing their own art.
With clear step-by-step instructions and insider secrets that manga artist Dalia Sharawna has learned on her drawing journey, all you'll need is a pencil and paper to draw any clothing style you desire.
About the Author
---
Based in Hebron in Palestine, Dalia Sharawna has been drawing manga for 10 years, fired by her passion for watching anime since she was a kid. Find more of her art and join her 171k followers on Instagram @drawing_dalia.