Manifest: 7 Steps to Living Your Best Life (Hardcover)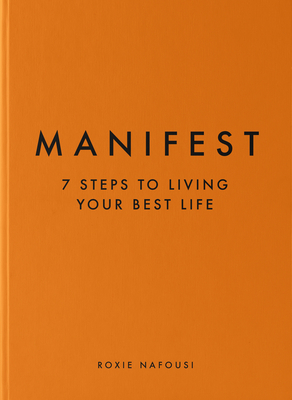 Description
---
A meeting of science and wisdom, manifesting is a philosophy and a self-development practice to help you reach for your goals, cultivate self-love, and live your best life.

THE INSTANT INTERNATIONAL BESTSELLER
 
Change your life with the first truly practical guide to manifesting, the hugely popular self-development practice that will transform your life for good . . .
 
Written by self-development coach and 'Queen of Manifesting' Roxie Nafousi, this book is the essential guide to anyone and everyone wanting to feel more empowered in their lives. In just seven simple steps you can understand the true art of manifestation and create the life you have always dreamed of.
 
Whether you want to attract your soulmate, land the perfect job, buy the home you have always wanted, or simply find more inner-peace and confidence, Manifest will teach you exactly how to get there . . .
 
1. Be clear in your vision
2. Remove fear and doubt
3. Align your behavior
4. Overcome tests from the universe
5. Embrace gratitude without caveats
6. Turn envy into inspiration
7. Trust in the universe
  
Unlock the magic for yourself and begin your journey to turning your dreams into reality.

FOR READERS INTERESTED IN MANIFESTING A BETTER LIFE: Manifesting has been a trend for millennials and Gen-Z, as seen by this NPR article where vision boards are gaining popularity as a tool for manifesting a better life, career, and relationships. This will appeal to readers wanting to take their lives in a new direction with digestible and practical steps on how to manifest and for readers of Vex King, Rhonda Byrne and James Clear.

MOTIVATED, PROMOTABLE AUTHOR: Roxie Nafousi has a growing platform of over 100K Instagram followers and her podcast The Moments That Made Me features conversations with influencers and fellow wellness writers about their defining life moments. In addition to working 1:1 with clients, Roxie offers monthly self-development webinars to 500 participants which consistently sell out. 

STRONG BACKLIST POTENTIAL: Many titles in manifesting and self-help have a strong backlist life, from Designing Your Life and May Cause Miracles. This will make a timeless and beautiful package with strong backlist potential.

Perfect for:
Women 18+ looking to reach their goals/aspirations; fans of spiritualism and those interested in manifestation; shoppers looking for a New Year's book. People working from home, starting new businesses from home. Those interested in creating habits, setting intentions.
About the Author
---
Roxie Nafousi is an emotional health coach and has written on wellness topics for media including Vogue, Grazia, Time Out, Evening Standard,Marie Claire, and Kourtney Kardashian's Poosh.
Praise For…
---
As seen in Today.com, Thrive Global, Women's Health, PopSugar, Forbes, Elle, Bustle, Insider, The Zoe Report, Maria Shriver's Sunday Paper, The Spruce, and many more.
"[Roxie Nafousi] breaks down how to use the power of your mind to change your everyday reality and debunks common misconceptions about the practice."  —Today.com
"Roxie is the voice manifestation needs. There are so many myths and misconceptions around the law of attraction, I was really drawn to her practical, thoughtful, and applicable reflections on how to manifest." —Jay Shetty, On Purpose with Jay Shetty
"Roxie Nafousi, author, speaker, and self-health coach explores the impact of positive thinking, overcoming adversity, and embracing vulnerability for personal growth. Her powerful story of transformation – from addiction and negativity to becoming the 'Queen of manifesting' – highlights the potential within us all. Roxie's teachings blend science and wisdom, offering a philosophy and self-development practice to reach your goals, cultivate self-love, and manifest your desires. Join Roxie Nafousi on this enlightening path towards empowerment and self-discovery, as she shares actionable insights for a life of manifestation and self-transformation." —Life with Marianna
"2022's answer to The Secret." —British Vogue
"A roadmap for a more positive way of life." —Financial Times
"The essential guide to anyone and everyone wanting to feel more empowered in their lives." —GLAMOUR UK
"The A-list's new favorite manifester." —Sunday Times Style
"The book you're seeing all over your Instagram feed." —Red
"A phenomenon." —Grazia
"The little orange secret to living your best life." —Life Magazine: The Sunday Independent
"At this point, I sound like a total broken record with how often I recommend Roxie Nafousi's work to anyone wanting to get into manifestation, but it's seriously just that incredible…The seven steps to manifestation included in this book, from being clear in your vision to trusting in the universe, will change the way you think about achieving personal goals and pursuing your dream life. For any manifestation beginners who are looking to cultivate self-love along their personal growth journey, this is the book for you." —The Everygirl