They Drew as They Pleased Volume 6: The Hidden Art of Disney's New Golden Age (Disney x Chronicle Books) (Hardcover)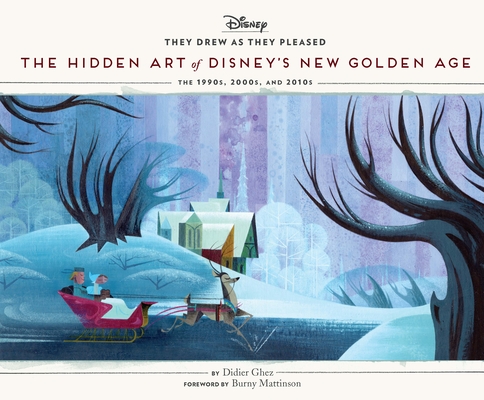 $50.00

Usually Ships in 1-5 Days
Other Books in Series
Description
---
The sixth volume in the They Drew as They Pleased series from award-winning Disney historian Didier Ghez!

They Drew as They Pleased Volume 6: The Hidden Art of Disney's New Golden Age explores the Disney Animation Studios from the 1990s through 2010s.

This gorgeous volume is the culmination of this landmark series, profiling artists Joe Grant, Hans Bacher, Mike Gabriel, and Michael Giaimo.

• Blockbusters like The Little Mermaid, The Lion King, Beauty and the Beast, Aladdin, Frozen, and Moana captivated audiences around the globe.
• Explores how Disney navigated the dramatic shift to computer animation
• Filled with vivid descriptions, never-before-seen art, and interviews with the artists themselves

This visually rich collection offers a rare view of the artists whose collective talents exemplify Disney's storied past and visionary leap forward.

As Disney shifted to computer animation, the featured artists were part of the animation process through it all—as they had been since the studio's inception.

• Ideal for anyone looking for a unique visual history of Disney's artists, as well as unprecedented access to concept art
• Makes a wonderful gift for fans of Disney, animation, pop culture, and film history
• A visually gorgeous volume that can be displayed on the coffee table or on the shelf
• Perfect for those who loved The Illusion of Life: Disney Animation by Ollie Johnston and The Animator's Survival Kit by Richard Williams

©2020 Disney Enterprises, Inc. All Rights Reserved
About the Author
---
Didier Ghez is the author and editor of numerous books about the Disney studio and its artists, including the books in the Walt's People series and in the They Drew as They Pleased series. In 2018, Ghez received the prestigious June Foray Award for significant and benevolent impact on the art and industry of animation. He lives in Coral Gables, Florida.

Burny Mattinson is the longest serving employee in Disney history and one of the few remaining artists who worked with Walt Disney. The veteran Disney filmmaker has worked on a number of classics including Lady and the Tramp, The Jungle Book, Beauty and the Beast, and Tarzan, and he was officially inducted as a Disney Legend in 2008. He lives in San Francisco.
Praise For…
---
Holiday Gift Guide Pick
"Award-winning Disney historian Ghez explores the history of Disney Animation Studios from the 1990s through 2010s by profiling artists Joe Grant, Hans Bacher, Mike Gabriel, and Michael Giaimo; investigating the magic behind blockbusters including "The Little Mermaid," "The Lion King," "Beauty and the Beast," "Aladdin," "Frozen," and "Moana;" and outlining Disney's shift to computer animation." - IndieWire
"A stunning coffee table book for anyone with an eye for mid-century modern furniture and an interest in the history of Disney animation." -Buzzfeed
"Honestly, if you've never taken a look at this series, you are missing out. Not only does it go into details on the movies we know and love, but there are anecdotes and stories to go along with the history. Not to mention the sheer amount of unpublished artwork included in the volumes is impressive on its own. The art even goes into details on projects that never actually saw the light of day." -Culturess
"The entire
They Drew as They Pleased
series gives Disney Animation fans a collection of rare art and untold histories from a studio that's dear to our hearts. This sixth and final volume was a bittersweet joy to pore over, representing an era in which I was actively following the studio as an adult rather than reliving a past I didn't experience firsthand. It not only answers questions about what could've been with abandoned projects, but achieves its goal of connecting fans to the artists behind some of the most cherished animated films of the past three decades." -The Laughing Place
"Animation historian Didier Ghez's landmark series chronologically retracing the creative evolution and great eras of Disney Animation wraps up with this final volume, covering the 1990s through the 2010s. Ghez's extensive research into the Animation Research Library, Walt Disney Archives and private collections bring never-before-published artwork and behind-the-scenes stories to the page. The latest book, published in August, profiles artists Joe Grant, Hans Bacher, Mike Gabriel and Michael Giaimo, enriching our appreciation of blockbuster hits from The Little Mermaid to Moana and chronicling the studio's dramatic shift from 2D to CG."
- Animation Magazine