The City (City of Victory #2) (Hardcover)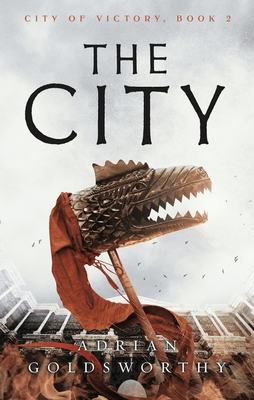 $29.95

Usually Ships in 1-5 Days
Other Books in Series
This is book number 2 in the City of Victory series.
Description
---
From bestselling historian Adrian Goldsworthy, the second book in his authentic, action-packed series set on the frontiers of the Roman Empire.
AD 113: NICOPOLIS
In the depths of the desert on the empire's Eastern Frontier, the Roman army lays siege to the city of Nicopolis.
Estranged from his beloved Enica to keep her safe, centurion Flavius Ferox has secured his freedom after being framed once again. His next quest: to uncover traitors within the Roman ranks.
As the siege builds, widespread corruption seethes and soldiers are murdered in cold blood. Meanwhile, Ferox's investigation brings him closer and closer to the imperial court, and uncovers connections to Hadrian himself...
Gritty, gripping and profoundly authentic, The City is the second book in a brand new trilogy set in the Roman empire from bestselling historian Adrian Goldsworthy.
About the Author
---
Adrian Goldsworthy studied at Oxford, where his doctoral thesis examined the Roman army. He went on to become an acclaimed historian of Ancient Rome. He is the author of numerous works of non fiction, including Caesar, Pax Romana, Hadrian's Wall and Philip and Alexander. He is also the author of the Vindolanda series, set in Roman Britain, which first introduced readers to Flavius Ferox.
Praise For…
---
'Goldsworthy's meticulous historical knowledge is very much in evidence in The Fort. There are multiple perspectives, ranging from Hadrian's to a Dacian mystic's. This makes for an extraordinarily rich picture of a battle on the empire's borders' The Times on The Fort
'Part adventure, part thriller but it's also a dramatic and credible recreation of Roman and barbarian life and an exploration of the ancient political world ... An historian can bring a lot to a fictional tale but only if they have the novelist's gene and understand imaginative storytelling too, Goldsworthy does. He writes fiction with the accuracy of an academic and the flair of a creative writer ... The author understands the Roman mentality, the historical events that underpin the fiction and the physical and cultural landscape of the empire'
NB Magazine
on
The Fort
  "An instant classic of the genre. No historian knows more about the Roman army than Adrian Goldsworthy, and no novelist better recreates the Classical World. Flavius Ferox, Briton turned Roman Centurion is a wonderful, charismatic hero. Action and authenticity combine in a thrilling and engrossing novel." —
Harry Sidebottom
, author, 
Fire and Sword
on
Vindolanda
  "Praise the gods, Ferox returns in a novel of explosive action and profound authenticity. No one knows the Roman army better than Adrian Goldsworthy, and no one writes more convincing Roman fiction." —
Harry Sidebottom
on
Brigantia
  "An authoritative and exciting portrait not only of Caesar but of the complex society in which he lived."—
New York Times Book Review
on
 Caesar: Life of a Colossus
"Riveting...Goldsworthy is the best sort of writer on ancient times. He eschews psychohistory, explains the wildly unfamiliar culture of that era, and speculates carefully...An outstandingly fresh look at well-trodden ground."―
Kirkus (starred review)
on
Philip and Alexander
"A thrilling read, as successful in meeting its ambitions as Philip's kingship, as sweeping as Alexander's conquests."―
Tom Holland, author of Rubicon: The Last Years of the Roman Republic
on
Philip and Alexander