Curious Devices and Mighty Machines: Exploring Science Museums (Hardcover)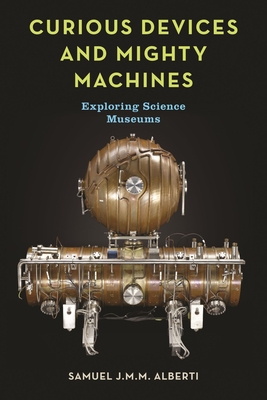 $27.50

Usually Ships in 1-5 Days
Description
---
From their quirky origins to their contemporary role as centers of advocacy, a look at the secret lives of science museums—past, present, and future.
 
Science museums have paradoxes at their core. They must be accessible and fun while representing increasingly complex science. They must be both historic and contemporary. Their exhibits attract millions, but most of their objects remain in deep storage, seldom seen. This book delves into these conflicts, revealing the secret lives of science curators; where science objects come from and who uses them; and, ultimately, what science museums are for. With an insider's eye, Samuel J. M. M. Alberti exposes the idiosyncratic past and intriguing current practices of these institutions—and sets out a map for their future.
About the Author
---
Samuel J. M. M. Alberti FRSE is the director of collections at National Museums Scotland and an honorary professor at the University of Stirling. His books include Morbid Curiosities: Medical Museums in Nineteenth-Century Britain.
Praise For…
---
"Alberti's musings on the delicate calculus of curation are down-to-earth and fascinating. 'The canny science curator,' he admits, concerned with storage, cost, and longevity, focuses on collecting 'material that is old enough to be obsolete but not so old as to be collectible.'"
— Nature

"A fabulous and enlightening adventure through the halls and storerooms of museums—a spirited celebration of human fascination and curiosity."
— Robin Ince, comedian, writer, and broadcaster

"Curious Devices and Mighty Machines is very much to be welcomed as an up-to-date survey of what science museums are like in the twenty-first century and how they came to be that way, with Alberti a congenial travelling partner on the journey."
— Tim Boon, Science Museum Group

"To read Curious Devices and Mighty Machines is to visit not just one museum but many from around the world with a wonderfully insightful and engaged curator. Alberti is a marvelous companion to the life, wonders, challenges, and quirks of science museums."
— Sharon Macdonald, director of the Centre for Anthropological Research on Museums and Heritage (CARMAH), Humboldt-Universität zu Berlin

"Some of the most complex and fascinating objects known to humankind exist in science museums and their vast storage facilities. Alberti has studied these objects and spaces in depth, especially the diverse people that inhabit and use them, offering an engaging reflection on science and society from this unique vantage point."
— David Pantalony, curator, physical sciences and medicine, Ingenium–Canada's Museums of Science and Innovation

"If I were to recommend only one book about recent trends in museums of science and technology, it would be this one. Curious Devices offers self-reflexive answers to a crucial question: how have leading museums around the globe developed innovative ways of making sense of their collections—in and beyond the museum walls?"
— Helmuth Trischler, head of research, Deutsches Museum