Star Trek: Villains (Paperback)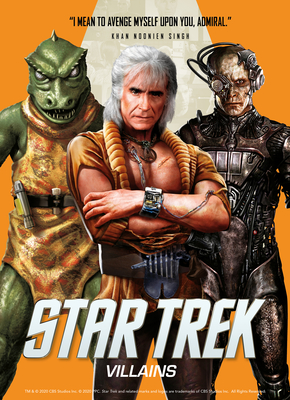 $24.99
Title is Backordered
Description
---
An essential guide to Star Trek's most iconic villains, featuring profiles and interviews.

Over the 50 incredible years of Star Trek TV shows and movies, the franchise has produced many stand-out villains.

Collected here are features on some of the very best - or worst - villains and classic interviews with the actors who portrayed them. Includes the Borg (Alice Krige as the Borg Queen), Khan (Ricardo Montalban, Benedict Cumberbatch), Q (John de Lancie), Shinzon (Tom Hardy) and many, many more.

TM & © 2020 CBS Studios Inc. © 2020 PPC. Star Trek and related marks and logos are trademarks of CBS Studios Inc. All Rights Reserved.
About the Author
---
Titan Magazines has been publishing the official Star Trek magazine since 1995.
Praise For…
---
"Titan launches its best magazine-sourced overview yet from the big franchises, Star Trek Villains" - The Borg