Snowpiercer 1-3 Boxed Set (Graphic Novel) (Boxed Set)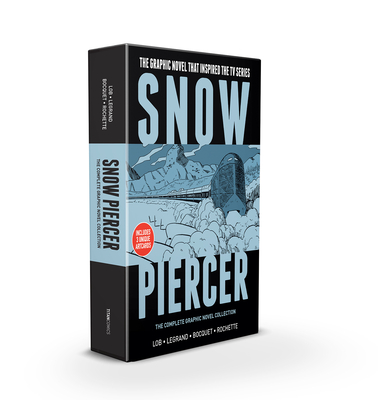 $79.99

Usually Ships in 1-5 Days
Description
---
This incredible Snowpiercer boxed set edition collects all three hardback volumes of the stunning graphic novels, which inspired the Oscar-winning movie starring Chris Evans (Captain America, Fantastic Four) and Netflix/TNT series starring Jennifer Connelly and Hamilton's Daveed Diggs!

On a future, frozen Earth, a train that never stops circumnavigates the globe. On board: all of humanity that we could save from the great disaster that wrapped the planet in ice. At the front of the train, the survivors live in comfort and luxury - at the rear, their lives are worse than cattle, trapped in the squalid dark. When one of the occupants of the tail breaks through into the main train - all hell follows in his wake!

Includes 3 unique, collectable art cards!

Collects the 3 original Snowpiercer graphic novels: The Escape,The Explorers, and Terminus.
About the Author
---
Jacques Lob, winner of the Grand Prix de la ville d'Angoulême award, was Franco-Belgian comic book author, best known for his Superdupont series. He began his career as an editorial cartoonist, before an editor suggested he focused on his writing, which bore rich fruit across a number of genres. He passed away in 1990.

Benjamin Legrand is the author of numerous thriller novels, screenplays, and comic scripts. As well as his own original works, he is well-known as the French translator of the works of such authors as Tom Wolfe, Paul Cleave and Nelson DeMille. After Jacques Lob's death in 1990, Legrand continued the Snowpiercer series with a two-part sequel, collected by Titan in a single second volume.

Olivier Bocquet is a writer, director and translator who has written and directed short films, movies and television. He has written comics for the most prestigious of French Comics publishers, such as Casterman, Dargaud and Dupuis.

Jean-Marc Rochette is a painter, illustrator and cartoonist. He has worked across a variety of projects and genres, from science fiction comics to children's cartoons - and including adaptations of Voltaire's Candide and Homer's Odyssey - but Snowpiercer remains the work by which he is most popularly known.
Praise For…
---
One of the greatest sci-fi comics ever written!" – Comics Beat

"Rochette's work is evocative of American classics of the eighties, such as Dave Gibbons' work on Watchmen, David Lloyd's work on V for Vendetta, and Frank Miller's work on Sin City...Snowpiercer is a page turner that comic and science fiction fans alike will find to be an engrossing read." - SF Signal 

"Dystopian scifi at its best...a marvellous entry into the genre, and one of Europe's finest comics works." - io9

Similar in tone and setting to Alan Moore's V for Vendetta." - Super Punch

"Like WALKING DEAD, this is apocalypse done right!" - Ain't It Cool

"One of the most celebrated sociopolitical tales in comics." – IGN

"A modern classic." - Pop Culture Leftovers

"...dark and powerful...the political subtleties and social commentary ride close to the surface, providing the depth and timeless quality...That Terminus not only hails back to this original subject, but also introduces new pressing concerns for the most vulnerable in society, is both welcome and impressive." - Comics Alliance

"It's a great science fiction read that will keep you thinking for days." - Examiner

"Looks fantastic, with a design that's almost timeless." - Kotaku

"Snowpiercer is a great read and a great looking release. If nothing else it'll look super classy sitting on your bookshelf" - Nerdophiles

"The artwork in the book is once again first rate." - Geek Hard

"From an artistic standpoint, the book is marvelous." - Comic Attack

"Hard To Put Down." - Destroy the Brain

"Snowpiercer would be a welcome addition to any comic collection." - Comic Hype 

"Snowpiercer is unlike anything I've read. The premise alone is enough to attract readers and the themes and issues are still relevant. It's a great, compelling look at humanity and its treatment of class difference." - Major Spoilers

"An entertaining action thriller that's much deeper than you'd expect. I absolutely recommend checking it out." - Graphic Policy

"Essential reading for any fans of the sequential arts...and a book I can't recommend highly enough. 5/5" - Big Comic Page

"One of the best science fiction stories I've read in the comic/graphic novel medium." - Nerds Unchained