Doctor Who: The Twelfth Doctor: Time Trials Vol. 2: The Wolves of Winter (Hardcover)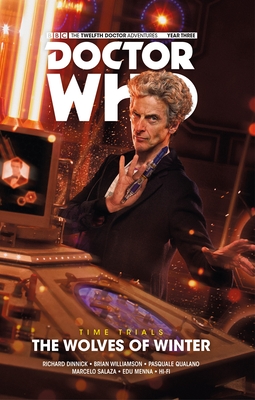 $22.99
Title is Backordered
Description
---
The brand new Year Three comic adventures of the critically acclaimed Twelfth Doctor, played by Peter Capaldi, along with companion Bill Potts!

In Bill's first comic adventure, the TARDIS crashes into the heart of a Viking camp! But this is no interactive history lesson, and it seems that a terrifying alien force has taken hold over the icy kingdom. As the snow melts, the Doctor realises that he is about to face an unwelcome face from the past...

And in a one-shot adventure, the Doctor takes Bill and Nardole on a trip to an intergalactic supermarket, where they make an unexpected new friend!

Collects Doctor Who: The Twelfth Doctor Year Three #5-7 and #9.
About the Author
---
Richard Dinnick is a screenwriter, novelist, comic writer and audio playwright. He has written for the BBC, including on Doctor Who, and was a BAFTA Judge in 2014.

Brian Williamson is a comic book artist and illustrator who lives in London. He has worked on Spiderman, X-Men and New Avengers for Marvel, and Torchwood, Doctor Who and Warhammer 40,000 for Titan Comics.
Praise For…
---
"Many of the Doctor Who comics love to revisit storylines from Doctors past, but rarely have those resurrected threats as ambitious, or combined as deftly, as they are in The Wolves of Winter. Both the Tenth and Seventh Doctors are referenced here, as well as Capaldi's Doctor's past, and the brisk narrative manages to drop just enough info to keep new readers informed as the plot unfolds rapidly" - Seattle Book Review