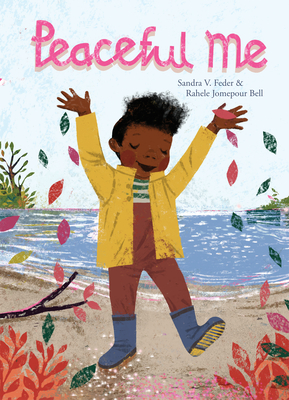 Description
---
A young child tells us about the different times when he feels peaceful, as well as how he copes when he needs to find a peaceful state again.
Acclaimed picture-book creators Sandra V. Feder and Rahele Jomepour Bell have teamed up once again to create a thoughtful and beautifully illustrated exploration of peacefulness.
"I like feeling peaceful," the young narrator tells us, then describes the times when he is filled with this emotion. When he is playing with a friend, he feels "free peaceful"; when he is having family dinner, "yummy peaceful"; when he is outside gazing up at the sky, "fluffy clouds peaceful". But, of course, he doesn't always feel peaceful, and we hear about his strategies for coping during those times, such as taking deep breaths, imagining his favorite things, and finding a quiet refuge or a hug.
Peaceful Me is the perfect companion to Angry Me -- together, they encourage readers to let anger come and go, while inviting peace to come and stay.
Key Text Features
explanation
illustrations
vignettes
Correlates to the Common Core State Standards in English Language Arts:
CCSS.ELA-LITERACY.RL.K.7
With prompting and support, describe the relationship between illustrations and the story in which they appear (e.g., what moment in a story an illustration depicts).
CCSS.ELA-LITERACY.RL.1.2
Retell stories, including key details, and demonstrate understanding of their central message or lesson.
CCSS.ELA-LITERACY.RL.1.4
Identify words and phrases in stories or poems that suggest feelings or appeal to the senses.