Showa 1944-1953: A History of Japan (Showa: A History of Japan #3) (Paperback)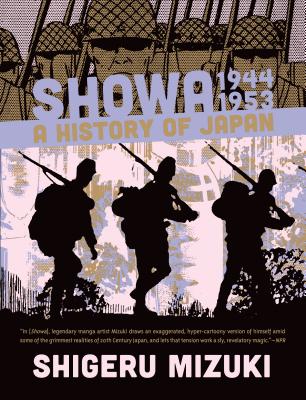 $24.95
Title is Backordered
Other Books in Series
This is book number 3 in the Showa: A History of Japan series.
Description
---
A sweeping yet intimate portrait of the legacy of World War II in Japan

Showa 1944–1953: A History of Japan continues the award-winning author Shigeru Mizuki's autobiographical and historical account of the Showa period in Japan. This volume recounts the events of the final years of the Pacific War, and the consequences of the war's devastation for Mizuki and the Japanese populace at large.

After the surprise attack at Pearl Harbor, Japan and the United States are officially at war. The two rival navies engage in a deadly game of feint and thrust, waging a series of microwars across the tiny Pacific islands. From Guadalcanal to Okinawa, Japan slowly loses ground. Finally, the United States unleashes the deathblow with a new and terrible weapon—the atomic bomb. The fallout from the bombs is beyond imagining.

On another front, Showa 1944–1953 traces Mizuki's own life story across history's sweeping changes during this period, charting the impact of the war's end on his life choices. After losing his arm during the brutal fighting, Mizuki struggles to decide where to go: whether to remain on the island as an honored friend of the local Tolai people or return to the rubble of Japan and take up his dream of becoming a cartoonist. Showa 1944–1953 is a searing condemnation of the personal toll of war from one of Japan's most famous cartoonists.
About the Author
---
Born March 8, 1922 in Sakaiminato, Tottori, Japan, Shigeru Mizuki is a specialist in stories of yokai and is considered a master of the genre. He is a member of the Japanese Society of Cultural Anthropology, and has traveled to more than sixty countries around the world to engage in fieldwork on the yokai and spirits of different cultures. He has been published in Japan, South Korea, France, Spain, Taiwan, and Italy. His award-winning works include Kitaro,Nonnonba, and Onward Towards Our Noble Deaths. Mizuki's four-part autobiography and historical portrait Showa: A History of Japan won an Eisner Award in 2015.
Praise For…
---
"Utterly compelling . . . [Showa] shows once again why Mizuki is one of the best creators in all of Japan. Highly recommended." —Manga Bookshelf