Lester the Library Dog (Hardcover)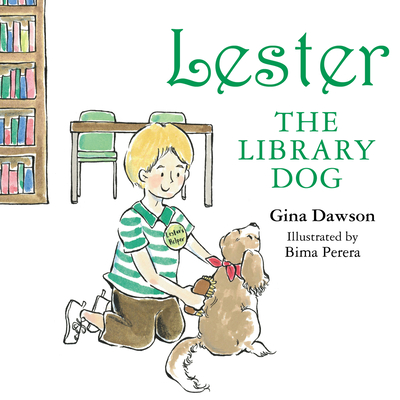 Description
---
Lester loves books, children, and his job as a library dog. Children
wait eagerly for their turn to read to him, and Lester is the perfect listener.
But Lester does more than listen to stories. He inspires children to
read with confidence, helps them deal with emotions, sorts out squabbles,
teaches responsibility, and makes everyone laugh.
Lester the Library Dog is about a day in the life of one dog and the
impact he has on the community, whilst emphasising team effort and
responsibility, resulting in us
all enjoying the benefits that
these wonderful dogs provide.
About the Author
---
Gina Dawson is a teacher who spent fifteen years presenting programs on a variety of social and personal issues to students of all ages across all school sectors. She knows how to present facts on a range of topics and promote discussion in a way that is fun, non-threatening and entirely comfortable. As well as her interest in youth well-being, Gina is a lifelong lover of dogs, an experienced trainer and is cognizant of the disability sector. She volunteers for a Service Dog organisation and is keen to educate children about the many roles dogs play in society. Now retired, Gina' s passion is writing children' s books that educate and promote awareness, as well as ghost writing memoirs. Her other interests include reading, walking, architecture, travelling, and spending time with family, friends and of course her dog.