Raising 4 Dimensional Children in a 2 Dimensional World (Paperback)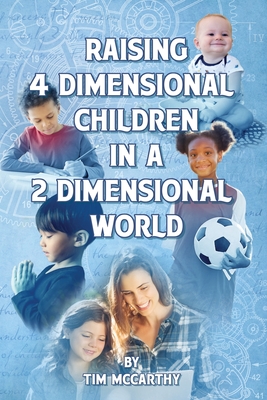 $14.99

Usually Ships in 1-5 Days
Description
---
Raising 4 Dimensional Children in a 2 Dimensional World
by Tim McCarthy
What is a 4 Dimensional Child?
There are 4 dimensions of human beings: Physical, Mental, Emotional, and Spiritual. We have bodies that need proper nutrition and exercise to run at peak efficiency. We have minds that need to continue learning to stay sharp. We have hearts that need human contact to be happy. And we have spirits that search for meaning to be at peace. A 4 Dimensional Child is one who is growing in all 4 dimensions to become a well-balanced adult.
What is the 2 Dimensional World?
It is the world of screens: TV screens, computer screens, tablet screens, and phone screens. Screens have only 2 dimensions: Length and width, but no depth. As people spend more and more time looking at screens, we seem to be living in a 2 Dimensional World.
How can I raise a 4 Dimensional Child in a 2 Dimensional World?
By (1) understanding your child's capabilities at each age, (2) engaging him/her in specific activities designed to develop the appropriate skills in each dimension, and (3 ) spending more time in the real world and less time in the 2 dimensional screen world.
This book provides a simple understanding of the physical, mental, emotional, and spiritual developments of children at each age, based on research in developmental psychology. It also provides fun activities you can play with your child to help him/her develop the necessary skills to move up to the next level.