Totally Booked: A Book Lover's Companion (Hardcover)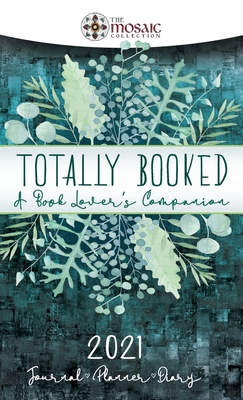 $32.99

Usually Ships in 1-5 Days
Description
---
One of life's best comforts is cuddling up with a great book, but chronicling the books you read can be a challenge.
Totally Booked, a companion reading journal from The Mosaic Collection, is perfect for book lovers. As a paperback, Totally Booked travels easily and is a charming gift for mothers, sisters, girlfriends, book lovers, avid readers, book club members, influencers, bloggers, and book reviewers.
Filled with tools specifically requested by avid readers, this 12-month dated companion journal introduces you to authors in The Mosaic Collection, simplifies your book tracking, streamlines your review writing, and collects your favorite quotes.
You'll be able to:
♥ remember your favorite books, quotes, authors, and new releases as you look back on 2020
♥ anticipate new releases and events, compile your TBR wishlists, and set fresh challenges for 2021
♥ plan each month in greater detail as you consider your goals and track reading minutes, favorite books, and quotes
♥ keep a list of the people to whom you've loaned books
♥ track monthly goals, reading minutes, and unfinished books
♥ log up to 120 books and review up to 150 in a year; and* identify your favorite book of 2021.
Totally Booked includes 10 sections
♥ Mosaic Authors
♥ 2020: Year in Review
♥ 2021: The Coming Year
♥ 2021: A Closer Look
♥ Give the Gift of Stories
♥ 120 Books: Tracker & Reading Log
♥ Reviews: Organize Your Thoughts
♥ 2021: Year in Review
♥ The Best of the Best
♥ 2022: The Coming Year